Stahlin Enclosures Meet Criteria for Quality, UV Protection, and Cost Competitiveness for Protecting Controls in Food Processing Plants
Stahlin® Enclosures, a brand of Robroy Enclosures® --- the world's leading manufacturer of fiberglass electrical, instrumentation, and industrial enclosures --- announced the availability of a new case study showcasing how Stahlin® helped Select Technologies Inc. (STI), a full service food plant equipment systems integrator, meet its criteria for product quality, UV protection, and cost competitiveness in protecting control systems for food processing.

The case study is downloadable, at no obligation, by visiting:
https://stahlin.com/case-study/stahlin-non-metallic-enclosures-meets-select-technologies-criteria-for-quality-uv-protection-and-cost-competitiveness-for-protecting-controls-in-food-processing-plants
STI was completing a refrigeration engine room control upgrade for a food distributor in the Chicago area with more than 1 million square feet of floor space. The project scope included controlling multiple refrigeration compressors, vessels and pumps to space equipment like cooling coils and air units. One of the key components used in all of those areas included sensors to manage space temperatures; many were placed in the controlled space and others were outdoors. Protection of those sensors by a reliable enclosure is essential, especially because many of the controls operate in environments that are inherently wet and corrosive.
Stainless steel is often the first choice for enclosures in the food industry. However, Select Technologies believed that they could protect their controls just as effectively with a fiberglass enclosure. Due to high
standards required in the food processing industry, STI's customers expected the best. Consequently, making a decision to switch vendors is not something the company took lightly. When they discovered and tested the Stahlin® DiamondShield® Series of fiberglass enclosures with other non-metallic Enclosures, STI concluded Stahlin® had a reliable product that provided uncompromising protection.
After analysis STI determined that non-metallic enclosures are significantly more cost effective than stainless steel (20-40% less) and are very competitive with other metallics.
The Stahlin® Diamondshield® Series was developed for design flexibility and pleasing aesthetics. Applications include harsh corrosive and wash down environments, both indoors and out. Unique internal panel management capabilities provide the end user with only the features they need for their application yet enable the use of every cubic inch of valuable internal enclosure space. Plus, the DiamondShield® series is molded with SolarGuard®, meeting another of STI's requirements: protection from UV-Radiation.
For Additional Information:
Select Technologies Inc.: https://www.select-technologies.com/
Featured Product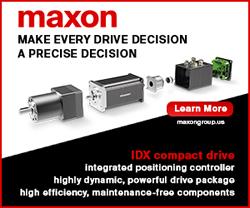 maxon motor launches new high-speed motors that are configurable online. The new ECX brushless motors are quiet and feature very high efficiency. The ECX motors are available with diameters of 8, 16 and 19 mm achieving speeds of up to 120,000 rpm. They run very smoothly and are highly efficient. With maxon motor's online configurator, it is easy to put together a customized DC motor to include gearhead, encoder and controller. The customized motors are ready to ship in 11 days!