ELITER Packaging Machinery delivered for Monos Foods JSC, Mongolia the BT-2000L Overwrapping Machine to enhance overwrapping packaging automation for their production.
ELITER Packaging Machinery, a Chinese manufacturer of packaging machinery and packaging automation solutions designer, has recently delivered to Monos Foods JSC, a Mongolian manufacturer of nutritional food products and supplements a set of automatic overwrapping machine with model BT-2000L, which marks the company's further progress in reinforcing its presence worldwide. Overwrapping is a kind of film packaging and also known as cigarette wrapping or tuck-and-fold wrapping, The film overwrapping is a packaging that can enhance visual appeal for the products wrapped and improve their sense of luxury.

"We feel glad that our excellence in overwrapping is recognized further at an international level.", said Zhiwei Bao, general manager of ELITER Packaging Machinery.
"Manufacturers in China have been, during a long term, competing in a vicious circle. That is say, a majority of them has been cutting down the price hoping to defeat their competitors, however, an inevitable result is that gradually the machines sold on the market come with more and more inferior quality. The result is an ineradicable stereotype that overwrapping machines made in China are cheap.", added Bao.
Incorporated with patented technology, the BT-2000L Overwrapping Machines can operate, depending on the size of carton to be wrapped, at a higher speed around 80 and 100 PPM in a fully stable manner while ensuring excellent film wrapping performance.
"What we want is to find a let-out from another way. Installed a cheap overwrapper might be pragmatic in the case that the client does not require a higher speed of output, and the most seemingly advantage is that, it is cheap… however, installing a packaging machine is not a once for all business. Think about the maintenance and possible fault. No one would like a pure pile of steel that causes problem.", said Bao.
"There are always some clients who claim that our overwrapping machines are several times more expensive than those cheap ones in the market. What they do not notice is that, what we offer and what are available on the market are totally different machines. There is still a long way to go to break down the stereotype."
About BT-2000L Overwrapping Machine
The BT-2000L Overwrapping Machine is servo-driven and installed with Tri.Driver, which is ELITER Packaging Machinery's patent technology. It is a market-leading overwrapping packaging automation solution that reinforce the stability of operation and film feed when the machine is working at a higher speed. Depending on the product to be wrapped, the machine can reach a maximum output of 100 wraps per minute while ensuring effective tuck and fold wrapping performance.
About ELITER Packaging Machinery
ELITER Packaging Machinery is a packaging machinery manufacturer in China. The companies offer secondary packaging automation solutions including cartoning machines and overwrapping machines, as well as non-standard & customized solutions.
Fore more inforamtion, get in contact with
Zixin Yuan - Digital Marketing Coordinator at ELITER Packaging Machinery
zixin.yuan@eliter-packaging.com
www.eliter-packaging.com
Featured Product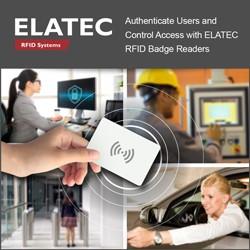 With a tap of the badge, RFID readers from ELATEC provide secure, reliable and easy-to-use user authentication, access control and usage tracking of hardware and software in industrial automation processes. Reader durability in harsh plant floor environments is another essential feature. Choose the right authentication and access control solution and extend RFID card-based capability for the access control of PLC, robot and HMI automation controller software and devices requiring special operator training.