-Nexa3D to launch the NXE 200 industrial 3D printer at AMUG 2022 -The NXE 200 offers an excellent entry point into LSPc technology, aimed at designers, engineers, and manufacturers who need fast, accurate, and scalable prototyping and manufacturing solutions -LSPc enables 6.5x faster print speeds than competing technologies, plus exceptional surface finish -Nexa3D is offering a limited-time bundle that includes an NXE 200 printer, NexaX 2.0 software and an xCure curing unit all for just $49,990
Nexa3D, maker of ultrafast 3D printers, today announced the release of the NXE 200 industrial 3D printer, an affordable entryway into Lubricant Sublayer Photo-curing (LSPc) technology. The NXE 200 is a natural expansion of Nexa3D's portfolio, which also currently includes the NXE 400 industrial 3D printer and NXD 200 dental 3D printer, with the intention of broadening LSPc's accessibility.

Designers, engineers, and manufacturers who need fast, accurate, and scalable prototyping and manufacturing solutions will benefit from the NXE 200. The system offers not only 6.5x the speed of competitive resin 3D printing technologies but a spacious build volume of 8.5L and build area of 275 x 155 x 200mm. With this combination of speed and volume, users can produce large parts and production runs of smaller parts in a fraction of the time required by other 3D printers.
"Consumers should not have to accept tradeoffs between quality and affordability," said Michele Marchesan, Nexa3D Chief Revenue Officer, Industrial Products. "The NXE 200 offers extremely high productivity, in addition to superior accuracy, aesthetics, and mechanical properties, at the lowest total cost of ownership. Nexa3D intends to reach as many users as possible, and the NXE 200 will make LSPc more widely available."
Nexa3D offers a large selection of materials for use with the NXE 200, along with its intuitive and user-friendly NexaX 2.0 software, which enables intelligent build optimization, process stability, and print consistency. Closing out the validated workflow are xWash and xCure post-processing technology. Each of these elements is fast and easy to use, eliminating wasted time in print preparation and post-processing.
The NXE 200 includes Nexa3D's proprietary Everlast 2 membrane, a key component to LSPc's speed and which, thanks to its long lifespan, results in more printer uptime and lower consumables costs. The printer's 4K LCD light engine eliminates light diffusion near the part's edges, resulting in exceptional accuracy and surface finish. Uniform exposure and process control with high power and irradiance enable strong cure at each layer for better mechanical properties.
The NXE 200 is priced at $49,990 with installation included, and for a limited time, the printer comes bundled with Nexa3D's high-capacity xCure curing unit and NexaX 2.0 software. This offer is good until the end of May.
The affordability of the NXE 200 goes beyond its price point. Built from industrial hardware with modular components, the 3D printer is easy to service and affordable to upgrade, resulting in a long-lasting, reliable machine.
Nexa3D is launching the NXE 200 at this week's Additive Manufacturing Users Group (AMUG) Conference, taking place in Chicago April 3-7. A Diamond Sponsor of the conference, Nexa3D will also be showcasing the larger-format industrial NXE 400 3D printer and the brand new industrial resin desktop XiP 3D printer, which is scheduled to begin shipping in Q2. Other Nexa3D products at AMUG will include xWash and xCure, NexaX 2.0 software, and information and part showcase for the upcoming QLS 350 powder bed 3D printer. Visit Nexa3D at Booth D12, and to set up a meeting with a Nexa3D team member, please contact clare.scott@nexa3D.com.
About Nexa3D
Nexa3D is passionate about digitizing supply chain sustainably. The company makes ultrafast polymer 3D printers that deliver 20X productivity advantage, affordable for professionals and businesses of all sizes. Partnerships with world-class material suppliers unlock the full potential of additively manufactured polymers for volume production. Automated software tools optimize the entire production cycle using process interplay algorithms that ensure part performance and production consistency, while reducing waste, energy and carbon footprints.
For more information on Nexa3D and its products, visit the Nexa3D website, or connect socially on LinkedIn, Twitter, Facebook, and Instagram.
Featured Product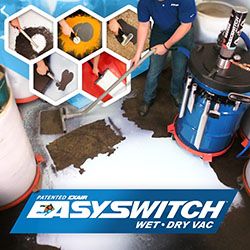 Be sure to attend the latest of EXAIR's webinars. Get educated on pneumatic industrial vacuums so you can break the cycle of replacing electric shop vacuums. Industrial environments often present a continual battle to keep them clean and safe. Unavoidable by-products of manufacturing processes include liquid and solids which often present hazards to personnel, products and processes. Solids may be trim, dusts, or chips from a manufacturing line; liquids may be coolant spills, coating overspray, or even burst packages. Cleaning up these materials often falls on the operators of the equipment who need reliable, adaptable, safe and effective tools for cleanup. Supplying them with tools which fail frequently or do not meet the requirements of the safety team is a recipe for disaster. Attend this webinar to gain an understanding of how pneumatic vacuums can reduce the maintenance, increase reliability, and improve flexibility for your facility. Attend live on May 24th at 2 p.m.