-Customized Quality Assurance, Control and Management Meet Rigorous Applications -Purpose-Built Software Designed to Ensure Full Testing and Traceability of End-to-End Processes -User-Application Team Offers Expert Guidance on Optimal Materials and Technologies -Flexible, On-Demand Digital Production Ushers in Additive Manufacturing 2.0
Shapeways Holdings, Inc. (NYSE: SHPW) ("Shapeways" or the "Company"), a leading global digital manufacturing platform driven by proprietary software, is extending its robust quality assurance capabilities to address the rigorous production requirements of enterprise customers while meeting the new expectations of Additive Manufacturing 2.0. This next generation of 3D printing represents an inflection point toward mass adoption, which Shapeways is enabling through its world-class services and support of diverse and demanding additive manufacturing applications.

Shapeways is uniquely positioned to help drive market momentum for Additive Manufacturing 2.0 with its end-to-end digital manufacturing platform and established ecosystem of manufacturing partners.
Shapeways' extended quality assurance capabilities are designed to lower manufacturing barriers while increasing the speed of delivery of quality parts and products for more than one million customers worldwide. "Quality is at the heart of all we do—from refining initial designs to delivering final products and every step in-between," said Aidan O'Sullivan, vice president of operations at Shapeways. "We continually enhance our quality systems, which are designed to ensure that we meet our customers' exact performance requirements, each and every time."
World-Class Quality Drives Next-Generation Additive Manufacturing
At each Shapeways ISO-9001 production facility, quality experts adhere to rigorous Quality Assurance and Quality Control procedures designed to address special customer requirements spanning prototypes to full-scale production of high-performance, end-use parts. An experienced user-application group assists customers in identifying design attributes while guiding the selection of materials and technology combinations to yield the best possible outcomes for a variety of industrial applications for aerospace and defense, automotive and healthcare industries.
Additionally, Shapeways addresses growing demand for highly personalized products by customizing quality management to meet a variety of strenuous requirements. For example, Shapeways assists an international manufacturer of custom knee braces in producing two products tailored for different activity levels. To help ensure the highest levels of product reliability and performance, Shapeways identified specific file orientations and stress-testing processes. The user-application team also recommended the use of Nylon 11 material to manufacture a specific brace model designed for high-impact athletic performance.
Additionally, Shapeways continues to work closely with customers like 67 Designs, a developer of rugged iPad mounting devices for off-roading, to optimize builds and scale production volumes at price points comparable to traditional injection molding.
Real-Time Visibility, Testing and Traceability
Shapeways' multi-step quality management process includes real-time monitoring and alerts, along with complete testing and quality checks designed to achieve part reliability and consistency. Tracking updates on all production and post-processing keeps customers fully informed on status while complete traceability facilitates fast root-cause analysis of issues impacting end-to-end manufacturing flows.
In producing high-quality drone parts for several Shapeways industrial customers, the quality team tested each part against stringent strength characteristics for optimal durability. Additionally, they collaborated with drone customers to align part design and file orientations with varying drone-assembly requirements in the U.S., Europe and Asia.
Shapeways also works closely with its global network of technology and manufacturing partners through dynamic feedback loops focused on maximizing operational efficiencies and streamlining preventative maintenance. As Shapeways scales operations to meet the ever-increasing demands of Additive Manufacturing 2.0, the company will continue to expand its offerings, including the design of new quality control mechanisms for specific industrial applications.
About Shapeways
Shapeways is a leader in the large and fast-growing digital manufacturing industry combining high quality, flexible on-demand manufacturing powered by purpose-built proprietary software which enables customers to rapidly transform digital designs into physical products, globally. Shapeways makes industrial-grade additive manufacturing accessible by fully digitizing the end-to-end manufacturing process, and by providing a broad range of solutions utilizing 11 additive manufacturing technologies and more than 90 materials and finishes, with the ability to easily scale new innovation. To date, Shapeways has delivered over 21 million parts to 1 million customers in over 160 countries.
Featured Product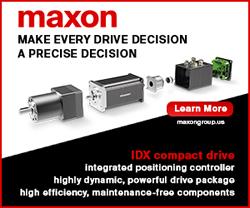 maxon motor launches new high-speed motors that are configurable online. The new ECX brushless motors are quiet and feature very high efficiency. The ECX motors are available with diameters of 8, 16 and 19 mm achieving speeds of up to 120,000 rpm. They run very smoothly and are highly efficient. With maxon motor's online configurator, it is easy to put together a customized DC motor to include gearhead, encoder and controller. The customized motors are ready to ship in 11 days!