The Karbon 800 Series will leverage Intel's new hybrid architecture to provide advanced computing power in challenging environments.
Following the announcement of new 12th Generation Intel Core™ processors at CES 2022, global industrial computer hardware manufacturer and IoT solution provider, OnLogic (www.onlogic.com), has revealed their upcoming Karbon 800 Series of rugged computers, designed to leverage the advanced features and capabilities of Intel's latest CPUs.

The OnLogic Karbon 800 Series has been engineered for machine learning, artificial intelligence (AI), advanced manufacturing, automation, and other Industry 4.0 and Industrial IoT applications, that require powerful computing in commercial and industrial environments.
"We have been amazed by what our customers have created using our Karbon 700 Series, and with the large performance upgrades provided by Intel's Alder Lake architecture, the Karbon 800 Series will give them the power to continue to innovate," says OnLogic Rugged Line product manager, Maxx Garrison. "We've focused on adding additional features and expansion options to support the wide-ranging applications of our customers. This includes PCIe Gen 4 expansion for the latest GPUs, new I/O options like 10GbE and M12 LAN, and new configurations including a high-capacity RAID array option. The Karbon 800 Series will be our highest-performance and most configurable systems yet!"
Karbon 800 Models
The Karbon 800 will be available in four models at launch, allowing users to select and customize the system that best fits their particular needs. Each model can be configured with up to a 16-core, Intel Core i9 processor and 64 GB of DDR4 ECC or non-ECC memory.
Depending on the model, a wide range of storage and expansion options are available, including optional hot-swap bays as well as single and dual PCIe Gen 4 slots. OnLogic's unique ModBay expansion technology can also be used to add a variety of additional connectivity and storage options, including up to 14x LAN ports and a 6x 2.5in SSD RAID array.
More information about the OnLogic Karbon 800 Series is available by visiting www.onlogic.com/computers/rugged/karbon-800/. The Karbon 800 is expected to launch early in the spring of 2022 and visitors to the OnLogic website can sign up to receive updates about launch timing and pricing.
About OnLogic:
OnLogic is a global industrial computer manufacturer who designs highly-configurable, solution-focused computers engineered for reliability at the IoT edge. Their systems operate in the world's harshest environments, empowering customers to solve their most complex computing challenges. Founded in 2003 as Logic Supply, the company has offices in the U.S., the Netherlands, Taiwan and Malaysia. OnLogic has helped more than 70,000 customers worldwide advance their ideas with computers that are designed to last, built to order and delivered in days. Learn more at www.onlogic.com or on YouTube at www.youtube.com/onlogic.
Featured Product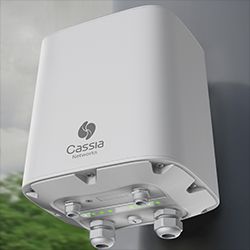 Cassia works with smart IIoT equipment manufacturers to help them overcome their challenges and to provide the competitive edge they need to reach their business goals. We provide companies in various IIoT sectors with a comprehensive suite of enterprise Bluetooth IoT products and solutions they need to enable smart IIoT solutions such as Condition Monitoring, Predictive Maintenance as well as Personnel and Asset Tracking solutions. Cassia's long-range Bluetooth gateways are uniquely designed for today's Industrial IoT enterprises to provide the scalability, flexibility and ease of deployment needed to reduce costs and achieve greater ROI.