CES & 3D Printing | January 5, 2022 | 2:00 PM - 5:00 PM PST | Las Vegas, NV
Essentium, Inc. ("Essentium"), a leading innovator of industrial additive manufacturing ("AM") solutions that recently announced a planned business combination with Atlantic Coastal Acquisition Corporation (NASDAQ: ACAH) ("Atlantic Coastal"), today announced that Elisa Teipel, Ph.D., Chief Development Officer and Co-founder, Essentium, will participate in a CES 2022 panel discussion hosted by Women in 3D Printing on how industrial-scale 3D printing is creating new value for consumer electronics manufacturing.

Dr. Teipel said, "The potential of AM in consumer electronics manufacturing is limitless, whether it's speeding up time to part with applications in the factory like tooling, jigs, fixtures, and assembly aids or enabling consumer electronics companies to experiment and innovate. The only question is when. The answer should be to start now—or risk getting left behind."
Dr. Teipel possesses more than a decade of experience in AM, including exploring new 3D printing applications and directing large-scale projects with consumer electronics, aerospace, and automotive manufacturers to ensure the successful commercialization of materials and technology.
At the event, Dr. Teipel will share insights into how AM is set to play an integral part in consumer electronics manufacturers' production lines, where millions of new electronic devices are being developed and manufactured each day. Every device requires a multitude of custom jigs, fixtures, pallets, nests, and assembly aids to produce. Traditionally these components are made in medium to low volumes with traditional subtractive manufacturing techniques, namely CNC milling. This results in long lead times and expensive tooling charges that are passed on to the customer as non-reoccurring engineering expenses.
During the panel Dr. Teipel will additionally provide details on how Essentium is creating an open ecosystem comprising the Essentium High Speed Extrusion (HSE™) 3D Printing Platform, an open software environment, and a broad choice of materials that ensure reliability, repeatability, and performance for industrial applications. As a result, customers can reap the benefits of dramatically reduced lead times, more design freedom, previously multi-component assemblies becoming single 3D printed parts, and immense business advantages through savings in materials and man-hours.
About Essentium
Essentium provides industrial 3D printing solutions that are disrupting traditional manufacturing processes by bringing product strength and production speed together, at scale, with a no-compromise engineering material set. Essentium manufactures and delivers innovative industrial 3D printers, materials, software, and services, enabling the world's top manufacturers to bridge the gap between 3D printing and machining and embrace the future of advanced manufacturing. Essentium is AS9100D certified and ITAR registered. For more information, visit www.essentium.com.
About Atlantic Coastal
Atlantic Coastal is a special purpose acquisition company that has agreed to a planned business combination with Essentium. For more information, please visit www.atlanticcoastalacquisition.com.
Featured Product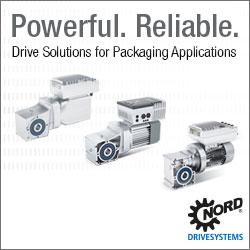 NORD's redesigned line of small CLINCHER parallel gear units showcase increased power and torque capacity for a variety of applications. These re-engineered versions will be replacing the existing SK0182NB, 0282NB, and 1382NB units. They are lightweight, have improved heat dissipation, are more cost-effective, and are available with NORD nsd tupHTM sealed surface conversion for wash-down and extreme environments.