Recognition for Commitment to Meeting Requirements
Muskegon, MI - Lorin Industries, Inc., the global industry leader in the innovation and production of coil anodized aluminum, is proud to announce the recent achievement of ISO 9001:2015 recertification. This accreditation is confirmation of Lorin's demonstrated and ongoing commitment to consistently meeting high standards for quality processes and continually improving Lorin's manufacturing and management

processes.
"We are very proud that our entire organization has been recognized again for our outstanding and relentless commitment to delivering products and services that meet quality requirements," said Park Kersman, President. "We are especially proud that we passed the extensive company-wide audit with no findings of non-conformance."
ISO 9001:2015 is the most recent standard, and the standard is used by manufacturing organizations to demonstrate their ability to consistently provide products and services that meet high standards for quality assurance processes, regulatory requirements, and demonstrated continuous improvement. Our quality management process allows us to better provide high quality products and services to our customers.
For more information about Lorin anodized aluminum, visit https://www.lorin.com.
###
About Lorin
Lorin Industries, Inc. has provided coil anodized aluminum to markets worldwide for over 60 years. Our history of global leadership in anodized aluminum finishing for architectural markets began with bringing the process to market in 1953, and continues today with industry leading innovation. Lorin has worked with some of the world's foremost architects, designers, and fabricators to create new and exciting building designs that last throughout generations.
Whether used for exterior wall cladding systems, roofing systems, sunscreens, interior panels, or decorative interior applications, the possibilities for coil anodized aluminum are infinite. The natural beauty of Lorin's anodized aluminum finishes brings newly constructed and renovated buildings to life, while providing a strong durable surface that will never chip, flake, or peel. Additionally, Lorin's coil anodized aluminum products have been used for automotive, transportation, consumer appliances, and any number of other industries, with the same excellent aesthetics and durability long proven in architectural applications. At Lorin, we can help you reflect your vision with Lorin anodized aluminum.
For additional information visit www.lorin.com and follow Lorin on Twitter, Facebook, and LinkedIn.
Featured Product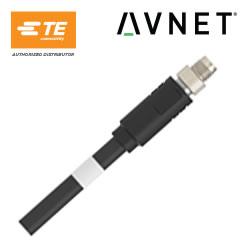 Single Pair Ethernet enables high speed communication up to 1 Gb/s in a cost-effective solution that reduces complexity, space and weight by transmitting over two wires rather than four of eight. In robotics and industrial applications, this weight reduction enables faster movements and lowered energy consumption while enabling data and power up to 50W over a single twisted pair. TE Connectivity is a proud founding partner in the Industrial Partner Network who is driving the adoption of Single Pair Ethernet technology.