The program will empower students, employees, and employers with the necessary skills to succeed in the automation industry.
Mitsubishi Electric Automation, Inc. is proud to announce the official launch of its workforce development program, 'Diamondworks!'. Our mission is to educate the future workforce to be better prepared for roles in industries that are becoming increasingly automated. Industries such as packaging, manufacturing, metalworking, automotive, and logistics continue to advance in terms of automation equipment used and knowledge required to succeed. To support this initiative, Mitsubishi Electric will collaborate with educational facilities throughout the Americas. Mitsubishi Electric Automation will also work with industry associations that provide training and development, and organizations that promote manufacturing automation as a career.

As the manufacturing industry suffers a labor shortage exacerbated by the COVID-19 pandemic, skilled workers with experience in automation are in high demand. Companies need workers who are trained to program, operate, and maintain advanced technology throughout their facilities. To meet this demand, Diamondworks! is designed to bring automation equipment, training, and curriculum to the next generation of the automation workforce. As a full-service automation provider, Mitsubishi Electric Automation is able to offer a broad offering of stand-alone CNC or robot training stands to fully integrated automation cells.
"At Mitsubishi Electric Automation, we have a proud history of investing in workforce development. We believe that the learners of today are the leaders of the future," said Mark Werthman, senior director of engineered and project solutions. "We're excited to be building a network of educational partnerships with technical colleges, universities, high schools, and training associations to provide students the educational equipment and curriculum they need to become leaders in the workforce," added Tom Majewski, workforce development specialist.
To learn more about the Diamondworks! workforce development program, visit https://us.mitsubishielectric.com/fa/en/support/training/workforce.
Watch a short video overview of the program on YouTube, hosted by Tom Majewski:
https://www.youtube.com/watch?v=jOcx5LNfAtc
Featured Product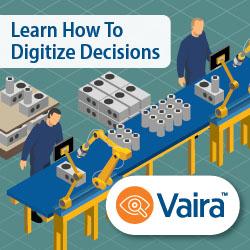 A unique distillery uses Pleora's Visual Inspection System to maintain brand quality standards and reduce errors that increase operating costs and slow production. To help ensure brand consistency, the distillery uses Pleora's AI-based Visual Inspection System to add decision-support for manual labelling processes. The camera-based system integrates pre-packaged AI plug-ins that are easily trained on a customer's unique requirements to visually highlight product differences and deviations for operators and inspectors on a display. The distillery trained the Image Compare plug-in to identify key brand elements on the bottle, with a real-time on-screen image overlay then guiding operators as they manually place the emblem. In addition, the system can be used as a training tool to teach new employees on brand quality standards.