Efficiency boost and faster cycle times in mold production
Stuttgart, November 18, 2021 - Toolmaking and plant engineering firm Meissner relies on FASTSUITE E2 to break new ground for its robotics systems: Thanks to powerful automation and simulation in robot-assisted embossing, the company has drastically reduced cycle times in production.

Meissner AG, based in Biedenkopf/ Germany, leverages cutting-edge technologies to maintain its leading position in the toolmaking and plant engineering market. About a year ago, the mid-size company added robot-aided embossing to its service portfolio. To understand how groundbreaking this innovation is, consider that manual embossing of a mold can easily take two or three months, because to ensure a uniform pattern each workpiece must only be handled by a single metalworker.
With robot assistance, Meissner can now manufacture an extensively embossed mold in seven to ten days, depending on size. Automation has therefore cut cycle times drastically.
FASTSUITE E2 - plus programming methodology and uploader
To make robot-aided embossing possible, one has to create a dedicated machine control program - a complex task that Meissner brought to a successful conclusion together with software and consulting provider CENIT. Because industrial embossing is a comparatively rare manufacturing technology, the partners decided to adapt an existing FASTSUITE E2 technology package (stud welding) to match Meissner's needs. Based on customer's requirements, CENIT team developed an efficient programming method and complemented it with the required downloader (translator). The process points for the embossing can be uploaded to FASTSUITE E2 as a set and easily programmed by process groups. The pilot project involved 160,000 process points, but the solution can handle a great deal more.
Precise simulation for 24-hour embossing without manual intervention
The result is impressive: In addition to the drastic reduction in processing times, highly realistic simulation by FASTSUITE E2 prevents potential collisions and eliminates any problems with singularities before the robot actually begins its work on the mold. Since the embossing process is verified by simulation, the robot can run for up to 24 hours without manual intervention.
FASTSUITE proves its worth - again
Jan Müller, Plant & Operations Manager at Meissner AG, sees additional benefits in using FASTSUITE E2 as a universal software companion: "We can rely on FASTSUITE to program robots and machines from virtually any manufacturer. That's a great advantage because of course our customers come to us with plenty of different models. On top of that, the 3D simulation software already offers us a wide selection of ready-to-use modules for any number of manufacturing technologies
Featured Product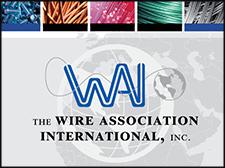 The Wire Association International (WAI), Inc., founded in 1930, is a worldwide technical society for wire and cable industry professionals. Based in Madison, Connecticut, USA, WAI collects and shares technical, manufacturing, and general business information to the ferrous, nonferrous, electrical, fiber optic, and fastener segments of the wire and cable industry. WAI hosts trade expositions, technical conferences, and educational programs.