A demonstration of how wireless technology can enhance automation will be on display at Pearse Bertram+ Streamline Manufacturing's booth 3028 at the Eastern States Exposition (Eastec) in West Springfield, MA, October 19 - 21. The company will display the latest Omron collaborative robot and the software behind its inner workings.
BLOOMFIELD, Connecticut; October 14, 2021 - Pearse Bertram+ Streamline Contract Manufacturing, a contract manufacturer and distributor of manufacturing components, will be demonstrating the benefits of wireless technology with its demonstration project at its booth number 3028 at the Eastern States Exposition (Eastec) in West Springfield, Massachusetts, October 19-21, 2021.
The demo, known as the Pearse+ High Striker, is a modern-day version of traditional "strong man" ring-the-bell games found at carnivals in which contestants try to win a prize by swinging a mallet with enough force to clang a bell at the top of a tower.
With the Pearse Bertram+ High Striker, an individual whacks a pneumatic cylinder with a hammer, generating an analog electrical signal of up to ten volts, depending on how much force is exerted. The signal is then transmitted through an SMC EX-600 wireless module which in turn sends it to an OMRON PLC and finally to an OMRON Servo motor which spins the wheel displaying the prizes the individual can win. The High Striker integrates several SMC pneumatic components besides the wireless module, including a cylinder, fittings and tubing.
The top scorer will win a brand-new Garmin watch; all participants will receive a prize.
"As a flagship distributor for SMC, we are excited to demonstrate the usefulness of its pneumatic components with our demo at Eastec," said Jon Pearse, President, Pearse Bertram+ Streamline Contract Manufacturing. "The demo will be an attention-grabbing, fun experience for participants willing to test their strength. We also think they will appreciate the benefits of the SMC and OMRON technology such as reduced wiring and easier programming. As an authorized distributor for the world's largest manufacturers, we provide a wide range of products for applications in many markets to cost-effectively achieve our customers' automation goals."
The components used in the High Striker provide several benefits. The SMC wireless system, which enables communication from a base unit to a remote unit and is typically used for sending IO signals remotely, eliminates the need for communication cables, reduces wiring work, space and costs, and prevents unauthorized access by using data encryption. The technology embedded in the Servo motor enables improved machine design and greater machine productivity.
About Pearse Bertram+ Streamline Contract Manufacturing
Pearse Bertram+ Streamline Contract Manufacturing is a provider of end-to-end innovative automation and process control solutions and contract manufacturing services. We serve a broad range of industries, including medical and life sciences, military, homeland security, robotics, industrial equipment and automation, test and measurement equipment and clean energy. We leverage our established supply chains, highly experienced professionals, and industry-leading technical capabilities to provide customers with high-quality products and comprehensive contract manufacturing services. To learn more, visit https://www.pearsebertram.com/.
Featured Product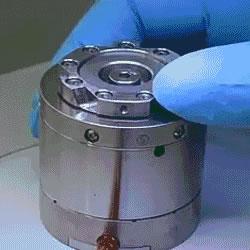 Hexapod micro-motion 6-axis platforms are based on a very flexible concept that can easily solve complex motion and alignment problems in fields including Optics, Photonics, Precision Automation, Automotive, and Medical Engineering.