3D HoloGroup is pleased to announce it has partnered with Univet, makers of VisionAR, the first and only AR safety glasses tested and certified with EN166 and ANSI Z87.1 standards for industrial use.
3D HoloGroup specializes in Augmented Reality (AR) software architecture and systems integration and is on track to provide the largest selection of AR hardware and ancillary brands on the market. Customers use 3D HoloGroup products and services to provide training for their personnel, students and their customers, safety and related instructional use for safer work environments and government requirements, visually enhanced comprehension of complex procedures, and every use with AR a mind can create.

Mario L Castellanos, COO, stated, "We continue to expand our market presence. VisionAR provides us with a perfect opportunity to expand into those areas where safety is paramount. Univet is already considered a leader in the safety glasses market and we're focused on providing the best solution for our customers. Our combined efforts will bring a whole new way of increasing efficiencies while securing safety in the enterprise sectors.
'Alessio De Gaetano, Director, added," With VisionAR we are introducing a new approach to the AR world and more in general to smart glasses in the industrial fields. 3D Hologroup is the ideal partner to build such a platform, since each application will need a competent software partner because no standard will give each company the solution they search for. With their transversal capabilities, competence in customized solution and the flexibility that is always a plus, we are ready to answer the demands coming from the market."
Univet S.r.l. has created the first and only AR safety glasses tested and certified with EN166 and ANSI Z87.1 standards for industrial use. Visit https://www.univetar.com/ to learn more.
3D HoloGroup partners encompass globally respected names in artificial intelligence, technology, design and quality. They trust 3D HoloGroup to deliver the best, most efficient, technically advanced and cost effective solution their customers and our customers demand.
What's your need? Visit today and see what we can do for you. https://3dhologroup.com/
See what we're up to!
Featured Product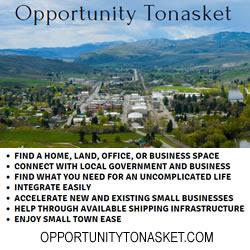 Our primary mission is to promote economic development and growth in the city of Tonasket, WA and surrounding area. This is a group of local citizens sharing a common goal. We wish to assist and promote existing businesses wishing to relocate, local businesses wishing to expand and local individuals wanting to startup a business. Preserving and enhancing the small town and rural lifestyle in a way which benefits everybody and maintains a healthy lifestyle. Opportunity Tonasket was created to be a hub for information and contacts with local city and county agencies, as well as local businesses and real estate connections. Their goal is to connect current and newly relocated individuals and businesses and "plug them in" with the best services, advice and experts in the area. Opportunity Tonasket is like a leg-up, as if one's already had a foothold in the community.