CRP Technology representative will present the latest advancement in Motorsport industry achieved by Powder Bed Fusion 3D printing process and polymer-based Windform TOP-LINE composite materials. The presentation will be virtually held on 7th October at 11:30 BST in the "Additive Manufacturing" session
Taking place on 6th and 7th October 2021 at the Silverstone Circuit, UK, MotorsportAM will unite this highly demanding and feverish industry with the world of advanced materials and engineering, featuring interactive presentations, Q&A, panel sessions, exhibition.

CRP Technology will be attending as speaker Thursday 7th October at 11:30 BST in the "Additive Manufacturing" session.
Through the presentation "How state-of-the-art technologies drive advancement in Motorsport", CRP Technology will be sharing its latest challenges and experiences, and discuss technical solutions that helped Motorsport organizations reached their targets. The solutions are based on the use of Windform TOP-LINE range of high performance composite materials, engineered for bringing value in Motorsport organizations' search for performance.
The presentation will be also shedding light on the advantages of using professional 3D printing and Windform materials through actual examples of parts and components manufactured for the high-performing electric motorcycles Energica, dealing with some Energica's turning points as: the birth as entrepreneurial vision of the Cevolini family in 2009; the worldwide success as single manufacturer for FIM Enel MotoE™ World Cup; the fundamental role of CRP Technology in the design, development and production of Energica models.
Eng. Franco Cevolini, CRP Technology CTO and CEO, and Energica Motor Company President, states, "CRP Technology along with CRP Meccanica, acted as Energica's technology and financial incubator. All Energica motorcycles models currently on the market were created and engineered through the support of CRP Meccanica (Subtractive manufacturing with advanced materials) and CRP Technology (Additive Manufacturing with Windform advance composites): their innovative and avant-garde solutions have made Energica a unique model throughout the world, and we want to make it clear at MotorsportAM."
CRP Meccanica and CRP Technology partner with Energica even on the development and construction of Ego Corsa, Energica's electric racing motorcycles for the FIM Enel MotoE™ World Cup which are derived from the street-legal motorcycle Energica Ego. From the advanced materials side, some recent components inside the Ego Corsa's new battery are 3D still printed using Windform FR2, one of the most disruptive materials from the CRP Technology's range of polyamide-based composites Windform TOP-LINE.
crptechnology.com
windform.com
Featured Product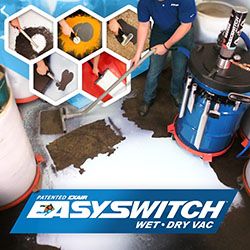 Hot and dirty processes can be a major issue for manufacturing companies. You may be looking to cool, clean, spray, blowoff, eject parts, keep your production line running or a myriad of other problems. EXAIR offers products to solve those issues. Learn More Now. https://exair.co/184_ttprod