With unparalleled throughput and a vast array of materials, the Lake printer represents a new paradigm that will allow manufacturers to consider 3D printing for a wide range of manufacturing
Azul 3D, a leading-edge 3D printing startup, has launched its first commercial product: the LAKE printer.

With unparalleled throughput and a vast array of materials, the LAKE printer represents a new paradigm that will allow manufacturers of industrial, consumer, and automotive goods to consider 3D printing in a whole new light.
Powered by Azul 3D's high-area rapid printing (HARP) technology, a proprietary version of stereolithographic printing that converts liquid plastic into solid objects using ultraviolet light, LAKE prints complex geometries at rapid speeds, using proprietary materials suited for a wide range of products.
With a print area of 10" by 12" by 24", the printer's unique interface dissipates heat, enabling continuous high-speed printing over large areas. LAKE is powered by a custom, high-intensity LED light engine that allows users to address 16 million independent pixels without the need for "pixel shifting" used by other projectors.
"The LAKE printer will be game-changing for 3D printing," said Chad Mirkin, Azul 3D co-founder and chair. "For the first time, we are combining throughput and materials at a price point that enables 3D printing to revolutionize many types of manufacturing. We have raised the bar in the industry, and this is just the beginning."
Azul 3D was spun out of the Northwestern University lab of Mirkin, an internationally renowned expert in materials science and nanoscience. The LAKE printer is bolstered by Azul 3D's chemistry group, which designs proprietary resins that are strong, durable, customizable, and compatible with high throughput printing.
LAKE has already brought a new level of speed and customization to the industry. At the outset of the COVID-19 pandemic, Azul 3D used the LAKE printer to print 5,000 face shields in 60 hours for healthcare workers. That meant every 6 minutes, Azul 3D was able to get 8 face shields off the printer and begin starting the next round of printing.
Azul 3D also partnered with Wilson Sporting Goods to use LAKE to print new pickleball paddles that are completely customizable. This partnership unlocked new features - including removing dead spots, increasing punch, and silencing ball hits - that could help the game grow even more popular.
For manufacturers interested in incorporating 3D printing, Azul 3D offers a full stack solution, partnering with them on design, materials, printing, and post-processing to ensure the process is optimized for their factory floor.
"In the past year, manufacturers have been throttled by supply chain disruptions," said Cody Petersen, CEO of Azul 3D. "At the same time, everyone is demanding more highly engineered solutions immediately. The LAKE printer offers a revolutionary solution to both problems and is the first step in industrializing additive manufacturing at scale."
The LAKE printer is the first in a series of printers that Azul 3D will unveil in the coming years. The next generation printer, called the SEA, will offer four times the print area, allowing manufacturers to print even bigger parts or products.
Azul 3D is actively taking orders for LAKE, with delivery expected in 2022. SEA will be ready for pre-sales in the fourth quarter of 2022. For more information, contact ttranpham@azul3d.com.
ABOUT AZUL 3DTM
Azul 3DTM is a leading-edge 3D printing company that is transforming the additive manufacturing industry. Initially invented and developed at Northwestern University, HARPTM technology can print 3D structures from a wide palette of materials. The initial printers based upon HARPTM are capable of manufacturing parts at production speeds, regardless of size, with a throughput dramatically outpacing its competitors and becoming competitive with injection molding. Azul 3DTM is enabling manufacturers to transition from prototype to mass-manufacturing on a single, streamlined production platform. In combination with its proprietary industrial-grade materials, it offers the opportunity for just-in-time mass production of diverse, highly customized products.
Featured Product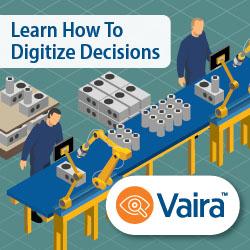 Pleora's Visual Inspection System helps operators detect errors and defects for unique component types, assembly steps, and custom low-run products where automated optical inspection (AOI) is too complex and expensive. The system helps DICA Electronics: Avoid costly, errors as a result of detecting errors at different phases in production, Speed time in detecting the root cause of the in-field errors with Tracking & Reporting apps for traceability, Maintain consistency in training new employees on requirements or with staff any time a new product is added, Easily train the system using 'good product' images for multiple product lines with no programming skills required, Reduce subjective decision-making, especially over a long shift, reducing error-escapes.