The users of Stratasys 3D printers and software can now seamlessly integrate with AMFG's Additive MES solutions
LONDON, UK, Monday, September 13, 2021 — AMFG, a leading provider of MES and workflow automation software for additive manufacturing (AM), has joined the Stratasys GrabCAD® Software Partner Program. The program enables AMFG to work strategically with the Stratasys team and their clients on integrating AMFG's software with Stratasys FDM systems and GrabCAD software.

A lack of AM machine connectivity with management systems like MES has been one of the key obstacles for organisations adopting AM for advanced applications.
Without connectivity, collecting and analysing real-time machine data takes a significant amount of effort. Automating the full production process from order receipt to build completion is challenging, inhibiting scalability.
By partnering with Stratasys, AMFG eliminates this bottleneck, enabling the users of Stratasys technology to create a bridge between their machines and AMFG's software.
The integration will enable Stratasys technology users to fully automate end part production and collect critical build data to ensure repeatable quality.
AMFG's VP of Growth and Innovation, Danny Winn, commented:
"The combination of Stratasys hardware, GrabCAD and AMFG's market-leading AMES platform is a game-changer for AM operations looking to scale through automation, whilst increasing overall traceability, utilisation, and quality."
"The ability to pull data from AM systems into a centralised software solution is not just a nice to have - it's critical for the future of scalable end-part manufacturing. Especially in heavily regulated industries such as Aerospace and Medical."
James Berlin, GrabCAD Senior Product Manager for Stratasys, said:
"AMFG has demonstrated a compelling vision for additive manufacturing execution, along with a robust solution that is positioned to help our joint customers manage and scale their operations."
"We are proud to include them in the GrabCAD Software Partner Program and look forward to the ability to jointly provide connected capabilities to the industry."
About AMFG
AMFG is a leading provider of MES software for additive manufacturing. Our software solutions empower manufacturers to manage their additive manufacturing workflows and achieve streamlined, automated processes.
With customers in 32 countries and across a range of industries, we specialise in enabling businesses to scale their AM operations through Automation of both the in house production process and Distributed Manufacturing.
To learn more about AMFG, please visit www.amfg.ai
Featured Product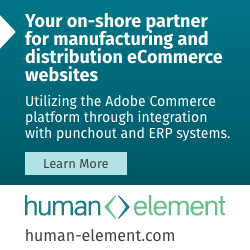 With Human Element, you will build a strategic partnership with experienced on-shore strategists and developers who understand the pain points unique to manufacturers and distributors. Using Agile methodologies and proven eCommerce website development strategies, our team positions clients for success.