Check out the latest in PFOA-compliant, low-retention additives, as well as antimicrobial compounds and high-temperature colors for PPSU resins
Techmer PM, LLC, will showcase several new technologies at the MD&M West trade show (Booth #3086) in Anaheim, Calif., Aug. 10-12, including a low-retention polymer additive that meets stringent EU and U.S. PFOA limits and allows pipette tips to fully evacuate their contents.

The Clinton-based compounder and materials design firm will also highlight the compounds it makes using Cupron Inc.'s copper-based antimicrobial ingredients as well as an expanded portfolio of custom colors for polyphenylsulfone (PPSU) resins that can withstand the high temperature requirements of the medical market.
Going PFOA compliant
"The problem with most existing hydrophobic technologies used to fully evacuate the contents of pipettes is that they typically contain ingredients with PFOA (perfluorooctanoic acid) or PFAS (perfluorinated alkylated substances), which are chemicals of health concern," says Dr. Bhushan Deshpande, vice president of technology. "So Techmer PM has developed a low-retention technology for pipettes and labware that delivers equivalent or better performance to traditional technologies and meets the new stringent EU and U.S. PFOA limits."
Techmer PM can provide these materials in masterbatch or compound form. Deshpande also notes that formulation components have been fully tested by an independent laboratory and found to be in compliance with both USP Class VI and ISO10993-5 standards.
Leveraging antimicrobial technology
Meanwhile, Techmer PM recently struck a deal with Richmond, Va.-based Cupron to expand their long-standing partnership related to Cupron's patented copper-based antimicrobial technology. Techmer is now Cupron's primary technology partner, manufacturer, and sales and marketing representative for a wide range of market applications, says David Turner, Techmer PM's VP of design and business development.
Cupron formulates an active, oxidized copper ingredient in powder form, and Techmer PM encapsulates the product during its polymer compounding process. The ingredient helps to kill bacteria and imparts durable antimicrobial, anti-odor, and skin-enhancing properties to various finished products, including surgical gowns, protective gear, containers, and hard surfaces used in healthcare environments.
"At Techmer PM, we design and formulate materials with Cupron's additive to achieve optimum dispersion, color control, and processing stability for the desired end-use for moldings, fibers, or films in a wide range of different polymers," according to Turner. Techmer PM's customers can now gain preferred access to this proprietary technology from Cupron.
A broader palette of color choices
"High-temperature resins typically have challenges in certain color spaces," explains Jack Chiang, Techmer PM's market manager for engineered compounds and 3D printing. "Custom colors take time to develop, so having off-the-shelf, predesigned colors improves speed to market." The company's new custom colors -- designed specifically for PPSU resins -- are formulated with components that would meet USP Class V or VI and ISO 10993 standards.
"We've selected a broad range of colors that embodies the traditional uses of these types of materials," says Chiang, to include such applications as medical housings, instruments, and trays. "They have all been proven to meet the demanding healthcare-related temperature requirements for such sterilization processes as autoclaving."
These new colored grades will combine shorter development cycles, unique color options, and lower scrap rates. This will help Techmer PM's customers evaluate and determine suitability faster in their healthcare applications by removing the custom-color blending process. Techmer PM has developed 12 colors in total that can be delivered in compound or masterbatch form.
Contact us today to schedule your MD&M booth meeting with key Techmer PM officials in advance and arrange to pick up your sample color chips, as supply is limited.
About Techmer PM
Founded in 1981, Techmer PM, LLC, is a materials design company that specializes in modifying and fine tuning the properties of technical polymers. The Clinton, Tenn.-based company thrives on partnering and collaborating with plastics processors, fabricators, designers, specifiers, and brand owners. Drawing on a broad portfolio of resins -- from polyolefins to PEEK -- Techmer PM helps manufacturers enhance product function and appearance in scores of end-use markets. The award-winning firm operates six North American plants and has extensive expertise in virtually every plastic- and fiber-related process, from additive manufacturing and blown film to nonwovens, injection molding, and sheet extrusion. Techmer PM has been recognized by Plastics News six times since 2014 as one of the "Best Places to Work" in the North American plastics industry. www.techmerpm.com
Featured Product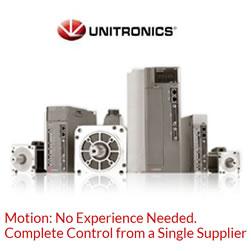 Unitronics' new line of AC Servo Drives & Motors changes the traditional approach to motion control. They are simple to set up and painless to program. Unitronics Servos simplify implementation of motion applications while minimizing complexity and reducing development time. Some of the easy-to-use features in this new line include implementing motion control easily with ready-made motion code, embedded diagnostic tools, and automatic communication setup.