Universal machining centers offer high productivity and nearly limitless possibilities
Bluffton, OH - GROB Systems, a global leader in the development of manufacturing systems and machine tools, highlights its second-generation G350 5-Axis Universal Machining Center, featuring a compact design, maximum milling performance, high visibility, and optimized work area access. The GROB G350 is ideal for use in aerospace, die and mold industries, or medical applications.

The GROB Systems G350 Universal Machining Center delivers high productivity, optimum availability, and excellent maintenance access. What's more, it features a unique machine concept; three linear and two rotary axes permit 5-axis simultaneous machining and simultaneous interpolation. The machine's unique axis arrangement permits upside down machining, offering almost limitless possibilities for part machining. Meanwhile, the horizontal spindle position permits the longest possible Z-travel path and optimum chip fall.
The unique arrangement of the three linear axes minimizes the distance between the guides and the machining point (TCP), lending the machine considerable stability. Thanks to the machining center's special axis concept, the full tool length can be employed in any axis position, even with maximum part size. This "tunnel" concept provides the basis - even with extremely long tools - for being able to swivel and machine the largest possible component within the work area without collision.
With a swivel range of 230 degrees in the A'-axis and 360 degrees in the B'-axis, the G350 offers the greatest possible positioning flexibility, while the machine bed's intrinsically stiff welded design delivers optimum machine rigidity. The G350 also features absolute position encoders, an air purge seal in all linear and rotary axes, and a disk-type tool magazine for fast tool change.
The central, ergonomic arrangement of the machine components guarantees optimal accessibility to the fluid cabinet and electrical cabinet, as well as easy access for preventive maintenance and inspection.
For more information on GROB Systems please visit: https://www.grobgroup.com/en/
###
About GROB Systems
For over 90 years, GROB has been known worldwide for the development and manufacturing of machines and production lines for automotive OEMs. GROB has since expanded its portfolio to include universal 5-axis machining centers. The unique retractable spindle provides unmatched accessibility to the work piece, and even upside-down machining, in a collision-free environment during tool change. They are easy to install and maintain, and provide outstanding performance and precision from lot size 1.
GROB is a family-owned company located near Munich, Germany and has full manufacturing capabilities in Germany, Brazil, China, Italy and the United States. More than 500 employees at the 400,000 square foot facility in western Ohio support GROB customers across North America.
Featured Product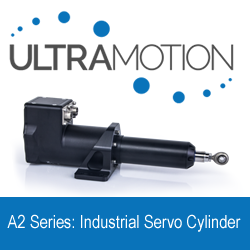 The AM series actuator is our most heavily ruggedized Servo Cylinder model. It features high performance mil-spec connectors and has been hardened to higher magnitude mechanical shock and vibrations. This actuator is suitable for harsh environments.