Phoenix Contact joins Coalition for Open Process Automation (COPA)
Middletown, Pa. - With the launch of COPA QuickStart, process control engineers can learn and experiment with an open process automation (OPA) control system. Phoenix Contact, an industry leader in Open Control, is supporting the new Coalition for Open Process Automation (COPA) with hardware and engineering know-how for the COPA QuickStart.

Designed for hands-on training, COPA QuickStart is the first commercially available industrial control system (ICS) aligned to the Open Process Automation Standards (O-PAS). It allows users to learn and experiment with O-PAS technologies, so they can accelerate their adoption of these technologies. Systems based on the O-PAS will help improve security, flexibility, and profitability of operations.
COPA QuickStart incorporates components and technologies from multiple vendors into a single, advanced, and cohesive ICS. Phoenix Contact hardware, including PLCnext controllers, Axioline F, and Axioline P I/O, plays a key role in the system, functioning as hardened and open distributed control nodes (DCN).
COPA, led by Collaborative Systems Integration (CSI) and CPLANE.ai, encourages collaboration between OT and IT vendors to create commercially available systems based on O-PAS. All COPA members are also active participants in The Open Group Open Process Automation Forum (OPAF). While OPAF's purpose is to define the O-PAS standards, COPA demonstrates how those standards can be implemented across vendor components.
"COPA QuickStart is a testament to the demand for open automation. This will be a great tool to help Process end users learn the ins and outs of OPA technology," said Pat McCurdy, Vice President of Industry Management and Automation at Phoenix Contact USA. "After years of hard work with OPAF partners, we are excited to help bring an OPA system into the real world."
Learn more at www.copacontrol.org.
About Phoenix Contact
Phoenix Contact develops and manufactures industrial electrical and electronic technology products that power, protect, connect, and automate systems and equipment for a wide range of industries. Phoenix Contact GmbH & Co. KG, Blomberg, Germany, operates more than 50 international subsidiaries, including Phoenix Contact USA in Middletown, Pa.
For more information about Phoenix Contact or its products, visit www.phoenixcontact.com, call technical service at 800-322-3225, or e-mail info@phoenixcontact.com.
Featured Product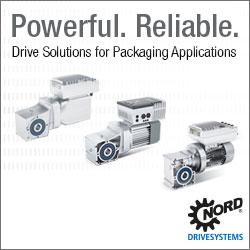 The existing generation of NORD IE3 and IE4 motors already offer impressive efficiency, but the new IE5+ technology takes this one step further, delivering even more efficiency at low speeds and partial loads, resulting in additional operational cost reduction. IE5+ motors are extremely versatile and can be used for a wide range of applications including food and beverage, intralogistics, airport baggage handling, and post and parcel industries that frequently operate at partial loads or reduced speeds and may need to quickly adjust load size and speeds.