As the leading automated assembly line manufacturer from China, we offers automatic screw feeder machine, automatic screw driving machine, automatic screw fastening machine, automatic screw tightening machine, automatic screw feeding systems, assembly automation screw feeders and more at factory price.For more visit https://www.calvindude.com/videos.html
As the name suggests, the automatic feed screwdriver system locks and tightens the screws of electronic devices, mobile phones, calculator, laptops, etc. You can use this device in your industry to save time and cost. Let us look at the different features of this machine:

FEATURES
This machine has a high demand in various industries. It is used in the auto mechanics department most of the time. But now, many electronic shops also use this device to fix their electronic products. Whether it is for small-scale or large-scale industries, it will serve exceptionally well.
This device is safe and extremely easy to use. You can use this machine to attach the screws in specific spots with zero chances of any error. It comes with a screw-locking mechanism that is comfortable and adjustable to place. It provides great precision for this operation.
Sometimes it is not easy to lock the pieces in smaller holes. When this work is done manually with the wrong type of tool, it takes up a lot of time and gives room for making mistakes, meaning you lose time on the rework. To prevent going through all this trouble, consider investing in this tool.
Benefits
It Features a Compact Design
You may wonder how a machine as small as this can perform efficiently in an assembly line. But in reality, larger tools, when used to perform a manual task, can hinder precision. But when the workers use a small device like this, they get a better vision and do a better job.
It is Light
This screwdriver is lightweight and is ideal for workers to handle and work with. You can manipulate it from every angle with ease. And since sometimes people have to work for hours, this product's lightweight is an added advantage.
It is not Noisy
Machines in the assembly line make a lot of noise. And on top of that, noise is also created due to the friction in the machine parts. But if you are using an automatic crew driver, it produces comparatively low noise. So you can use it anywhere anytime without worrying about upsetting the environment.
It Features an Anti-slip design
We have already mentioned that this tool is lightweight, durable, portable, and does not make any noise. But another great feature about this device is its anti-slip design. You can use this tool comfortably for long hours without worrying about it slipping off while working. Engineers have made this product in such a way that it minimizes the risk of slippage.
The locking and picking screw issue is pretty rampant. And we are sure that you must have spent a lot of cash experimenting with different types of screwdrivers in the market. But if you want the best one, you need to get a product from a reputable and qualified buyer. The Automatic Feed screwdriver system is a simple yet efficient product required in every unit. To know more about the different types of screwdriver, check this link - https://www.calvindude.com/automatic-screw-driving-machine.html
Featured Product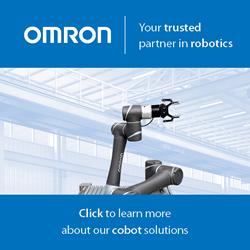 Humans and robots can now share tasks - and this new partnership is on the verge of revolutionizing the production line. Today's drivers like data-driven services, decreasing product lifetimes and the need for product differentiation are putting flexibility paramount, and no technology is better suited to meet these needs than the Omron TM Series Collaborative Robot. With force feedback, collision detection technology and an intuitive, hand-guided teaching mechanism, the TM Series cobot is designed to work in immediate proximity to a human worker and is easier than ever to train on new tasks.