Wilmington Machinery announces the launch of the new LUMINA MP500 Medium Pressure Injection Molding Machine.
Wilmington Machinery announces the launch of the new LUMINA MP500 Medium Pressure Injection Molding Machine. It is ideal for the production of foamed parts for automotive, recreational, enclosures, material handling and many other applications.

Compared to Wilmington's low-pressure machines the MP500 has up to twice the injection pressure and clamping force needed for producing thin wall or core back foamed parts. Like Wilmington's low-pressure machines, the MP500 has 30:1 L/D extrusion unit capable of compounding additives and ported for direct gas injection for lowest cost foam parts. Also like the low-pressure machines, it processes 100% recycled materials into quality moldings.
The injection unit of the MP500 is a reciprocating type with a unique and proprietary inline first-in, first-out accumulator. Shot size for foam is 480 cubic inches (approximately 15lbs. HDPE.) Shot size for solid molding is 240 cubic inches (approximately 7.5lbs.) The press is a two-platen type with a tie bar clearance of 42" x 42" and usable mold space of 60" x 42". Hydraulic parts ejection is standard.
The MP500 joins WILMINGTON'S extensive offerings of general purpose and dedicated pallet molding machines and the larger MP800 medium pressure machine previously introduced. Founded in 1972 WILMINGTON has designed and built low pressure structural foam machinery of all types and for all industries and applications. It also produces high-capacity packaging blow molding machinery in its' modern 65,000SF facility in the Atlantic coast port city of Wilmington, North Carolina.
Featured Product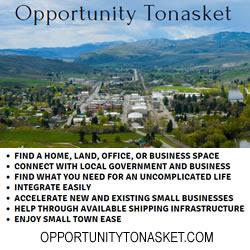 Our primary mission is to promote economic development and growth in the city of Tonasket, WA and surrounding area. This is a group of local citizens sharing a common goal. We wish to assist and promote existing businesses wishing to relocate, local businesses wishing to expand and local individuals wanting to startup a business. Preserving and enhancing the small town and rural lifestyle in a way which benefits everybody and maintains a healthy lifestyle. Opportunity Tonasket was created to be a hub for information and contacts with local city and county agencies, as well as local businesses and real estate connections. Their goal is to connect current and newly relocated individuals and businesses and "plug them in" with the best services, advice and experts in the area. Opportunity Tonasket is like a leg-up, as if one's already had a foothold in the community.