According to Global Market Insights, Inc., the worldwide laser materials market is estimated to exceed USD 1.56 billion mark by 2026.
Soaring investments in the healthcare sector and new product launches could shape the growth prospects of laser materials market in the coming years. Laser materials finds extensive application in end-use industries such as medical, manufacturing, academics, media, military, etc. Global additive manufacturing industry is one of the key consumers of laser materials. The sector is observing robust investments in view of new advancements in laser technology. Emerging economies composing of advanced precision engineering businesses could witness sturdy requirement for laser materials. Although, varying raw material prices could create a challenge for industry contenders.

According to Global Market Insights, Inc., the worldwide laser materials market is estimated to exceed USD 1.56 billion mark by 2026. Dow Chemical Company, GrafTech International, Taishan Fiberglass, Mitsubishi Chemical Holdings Corporation, Evonik, Aurubis AG, CeramTec GmbH, Corning Incorporated, Sinopec Shanghai Petrochemical Group, Asahi Glass Co., Universal Laser Systems, Norilsk Nickel, among others are making significant advancements in this area. Strategic partnerships to develop new products and materials at low cost could support industry growth. In November 2019, Evonik had partnered with NXT Factory to develop a material portfolio for Quantum Laser Sintering technology.
Elaborating on some emerging trends in the laser materials industry:
1) Soaring requirement in healthcare sector
There is a significant rise in healthcare expenditure worldwide. Lasers have shown promising applications in oncology, gene therapy, radiotherapy, aesthetics, tattoo removal, and dentistry, among others. High demand by customers could support the adoption of laser technology in various medical treatments.
Certain medical device companies are manufacturing new products that make use of laser technology for skincare. Highlighting an instance, in 2021, Bausch Health Companies Inc. along with its Solta Medical unit launched the Clear + Brilliant® Touch laser, the company's next generation laser that delivers a customized and more comprehensive treatment for patients of all skin types and ages.
2) Impact of COVID-19
The ongoing COVID-19 pandemic has disrupted global supply chain and eroded the purchasing power of end-use industries. These factors are expected to decrease product demand during the foreseeable future. The pandemic has also disrupted business activities. Governments have called for manufacturers to shift their focus on meeting the shortage of PPEs (personal protective Equipment), Ventilators and Testing kits. Companies like Think3D that specialize in cutting-edge technologies include 3D printing, Laser Cutting, Injection Moulding, are collaborating with government organizations, customers, and business partners. to manufacture various kinds of medical devices for prevention and diagnosis of coronavirus.
3) Rising military expenditure
Rising requirement for modern military machinery & equipment have expediated R&D and military expenditure. As per the report, the laser materials market from the R&D & military application segment is likely to reach USD 84.6 million in revenue by 2026. The tension between various countries and the growing geopolitics tension has resulted in increasing military expenditure. High defense expenditure and R&D efforts could boost laser materials demand. In the U.S. President Donald J. Trump had sent Congress a proposed Fiscal Year (FY) 2021 budget request of $740.5 billion for national security, $705.4 billion of which is for the Department of Defense (DoD). In view of such vast investments, the U.S. laser materials market could register extensive growth over 2026.
Featured Product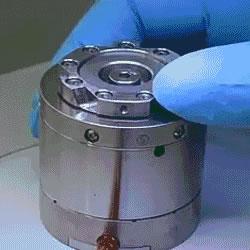 Hexapod micro-motion 6-axis platforms are based on a very flexible concept that can easily solve complex motion and alignment problems in fields including Optics, Photonics, Precision Automation, Automotive, and Medical Engineering.