Cutting Cost and Preventing Damage with Two Valves in One
CIRCOR International, Inc., a leading manufacturer and marketer of differentiated technology products and sub-systems, announces the RTK® Discharge and Pump Protection Control Valve. This unique valve provides the ideal solution for all industrial processes that incorporate pumps, such as condensate pumps, boiler feedwater pumps, or low-pressure centrifugal pumps.

The RTK® Discharge and Pump Protection Control Valve works as two valves in one: it brings together a pump protection recirculation valve and a control valve. In this capacity, the valve not only cut costs, but also increases the life span of pumps by both regulating the main flow and the recirculation flow with a single valve.
In industrial processes that use boiler feedwater and condensate pumps, the water is circulated in a closed loop by a pump. These pumps require a minimum amount of water flow to avoid problems that can stem from overheating and cavitation. During the low load condition, in particular, the water requirement is less than the pump's minimum flow requirement. Without a pump's minimum flow, the pump can be damaged very quickly. Under these conditions, the RTK® Discharge and Pump Protection Control Valve provides the additional flow that is required in a closed loop, and, thus, it guarantees a minimum flow through the pumps.
In addition to putting two valves in one, this valve also provides and inline-adjustable recirculation port. This feature allows you to control the valve inline while the pump is working. It is also easy to install, with the process taking less than three minutes. These conveniences, along with the reduction in overall cost and the lengthening of the valve life, ultimately establish the RTK® Discharge and Pump Protection Control Valve as the only valve in the market with this superior set of unique benefits.
For more information about CIRCOR and its associated brands, please visit www.circor.com.
###
About RTK®, SCHROEDAHL ®, and CIRCOR International, Inc.
CIRCOR RTK® is an international leader in the design, manufacture, distribution, and service of control valves and related equipment. In its fourth decade, the company continues to engineer innovative and reliable control technology for optimization of customer control circuits. RTK® produces high-quality control and shut off valves ideal for industrial, process, petrochemical, and power applications. It also offers effective electric and pneumatic linear actuators, sensors, and controllers. For more information about RTK® products, visit www.circor.com/rtk.
With the invention of the original Automatic Recirculation Valve for pump protection, CIRCOR SCHROEDAHL® is an international leader in pump protection and flow control technology. The company designs, manufactures, distributes, and maintains high-class specialty pump protection and control valves. SCHROEDAHL® valves are designed at the highest level of quality for high-pressure applications in nuclear and fossil power, industrial process, and commercial systems, as well as production, extraction, and refining systems in the oil and gas sector. For more information about SCHROEDAHL® products, visit https://www.circor.com/schroedahl.

CIRCOR International, Inc. designs, manufactures and markets differentiated technology products and sub-systems for markets including oil & gas, industrial, aerospace & defense and commercial marine. CIRCOR has a diversified flow and motion control product portfolio with recognized, market-leading brands that fulfill its customers' mission critical needs. The company's strategy is to grow organically and through complementary acquisitions; simplify CIRCOR's operations; achieve world class operational excellence; and attract and retain top talent. For more information, visit the company's website at www.circor.com
Featured Product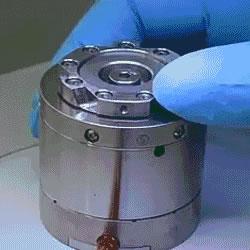 Hexapod micro-motion 6-axis platforms are based on a very flexible concept that can easily solve complex motion and alignment problems in fields including Optics, Photonics, Precision Automation, Automotive, and Medical Engineering.