Seminar will cover the basics of micro-CT, provide examples of imaging 3D printed samples, and discuss the future of micro- and dynamic-CT.
Brno, Czech Republic, March 2, 2021―TESCAN ORSAY HOLDING a.s. announces a new seminar on micro-computed tomography (micro-CT) for additive manufacturing (AM), "Micro-CT and Additive Manufacturing: Moving from 3D to 4D," which will take place online March 17, 2021.

"TESCAN is launching a new Spring Seminar Series as a way to keep our current and potential customers up-to-date with the latest technology, techniques, and applications," said Maroš Karabinoš, Global Marketing Director, TESCAN. "Each online seminar will be instructed by a market segment expert. The March 17th seminar will cover the basics of micro-CT, provide examples of imaging 3D printed samples, and discuss the future of micro-CT, including dynamic-CT, where samples are continuously scanned at high rates while undergoing change, either naturally or induced. We carefully selected the topics and 'best practices' that we feel are important to share in an effort to help our customers succeed."
Micro-CT is a non-destructive technique used to create highly detailed 3D volumes of intact samples. It is widely used throughout an AM part's lifecycle, including process development, process monitoring, and final part quality. TESCAN micro-CT products meet this challenge head-on, providing maximum flexibility and versatility, as well as opening up the possibility to perform 4D studies on samples.
If you'd like to learn more about this exciting topic, please join us to see the possibilities that micro-CT brings to the additive manufacturing space! For more information about the seminar and to register, visit: https://www.tescan.com/tescan-spring-seminar-series-2021/.
About TESCAN
TESCAN enables nanoscale investigation and analysis within the geosciences, materials science, life sciences and semiconductor industries. The company has a 30-year history of developing innovative electron microscopy, micro-computed tomography, and related software solutions for customers in research and industry worldwide. As a result, TESCAN has earned a leading position in micro- and nanotechnology. For more information visit: www.tescan.com.
TESCAN ORSAY HOLDING was established in 2013 as a result of long-term expansion and establishment of subsidiaries worldwide, including France-based ORSAY PHYSICS, a world leader in customized focused ion and electron beam technology. TESCAN ORSAY HOLDING maintains its headquarters, production and R&D in Brno, Czech Republic. Every TESCAN microscope is expertly produced in Brno and shipped to customers worldwide.
Featured Product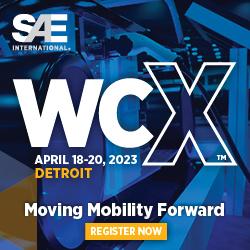 3 Days. 72 Hours of Live Content. 6 Technology Tracks. 200+ On-Demand session access for 3 months. Connect with the mobility community to: See advancements in technology integration. Stay up to date on the latest industry standards. Join critical conversations to overcome today's challenges and challenge the status quo. Demo advanced technology and connect with suppliers in a digital exhibition. Flexible registration options are available to fit your schedule and your budget.