The G150 provides maximum precision and machining performance
GROB Systems, a global leader in the development of manufacturing systems and machine tools, announces the availability of its new universal machining center, the G150, rounding out the company's universal machining center range of products. The modular G-series system has continually set the bar for productivity and process safety.

The G150 is optimally positioned for the precision engineering, medical technology, mold and die, mechanical engineering and aerospace industries as the only horizontal 5-axis machining center in its class. During the development of the G150, particular emphasis was placed on spatial accuracy to achieve excellent surface finishes and the highest form and position tolerances. In addition, accuracy for machining complex, high-precision components was also a main focus.
As part of the G-series, the G150 features a rigid 5-axis horizontal design with capabilities to invert the table and machine upside down for optimal chip evacuation. The unique ergonomic design is suited for shops and automation integration with easy access to the work area. New additions to the modular options system are the HSK E40 spindle with up to 42,000 rpm and a compact table with central clamping. This makes the G150 particularly attractive for application areas such as medical technologies, with smaller parts and smaller tools.
For more information on GROB Systems please visit: https://www.grobgroup.com/en/.
###
About GROB Systems
For over 90 years, GROB has been known worldwide for the development and manufacturing of machines and production lines for automotive OEMs. GROB has since expanded its portfolio to include universal 5-axis machining centers. The unique retractable spindle provides unmatched accessibility to the work piece, and even upside-down machining, in a collision-free environment during tool change. They are easy to install and maintain, and provide outstanding performance and precision from lot size 1.
GROB is a family-owned company located near Munich, Germany and has full manufacturing capabilities in Germany, Brazil, China, Italy and the United States. More than 500 employees at the 400,000 square foot facility in western Ohio support GROB customers across North America.
Featured Product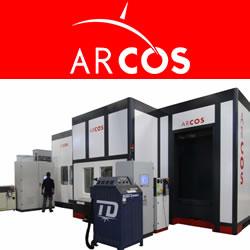 Robotized system for grinding and cutting with discs and the precision cutting with plasma technology of aeronautic parts. This Robotized system is produced for the finishing of aeronautic parts. This machine utilizes the grinding and cutting with a Ø1000mm disc. It is also allowing the precision cutting with plasma technology. Approved 3M Robotics System Integrator.