Link3D Announces Deployment To Bolster Additive Manufacturing Market On A Global Scale
December 9, 2020 -- Boulder, CO -- Link3D, the industry leading additive manufacturing operating system, is excited to announce its latest successful customer launch with PostNord, the largest logistic company in the Nordic region. The deployment (https://3d.postnord.com/) is representative of Link3D's vision of helping to expand additive manufacturing throughout the world and its latest push into the medical market.

PostNord's, via its subsidiary PostNord Strålfors, continued expansion into additive manufacturing is driving the need for an integrated offering within the medical market. Link3D provides the technology that allows companies like PostNord to scale their end-to-end additive manufacturing operations and increase customer satisfaction. Link3D has been working over the last year to develop its offerings for the point of care and medical device sectors.
Key enablers delivered to PostNord include:
• Secure platform for physicians to seamlessly go from X-ray to part order to improve speed to delivery when doctors and patients need it the most
• Integration with an industry leading e-commerce platform providing an end-to-end customer experience from order requesting, transaction through delivery
Jim Carlson, Link3D's EVP Customer Operations says, "The commitment to Additive Manufacturing and the confidence PostNord has placed in Link3D, as they drive their innovation is not only exciting for Link3D, but showcases the impact digital transformation has when scaling operations within the additive industry".
"As we continue our investment to make 3D printing more accessible in the market we are pleased that we managed to cover support for both legacy and new systems with the help of Link3D", says Tomas Lundström, Head of 3D, PostNord Strålfors Group
Link3D has already launched substantial deployments in markets including aerospace, medical and contract manufacturing sectors. With customers in regions including Germany, Japan and India, this push into the Nordic region of the world further illustrates Link3D's ability to enable distributed manufacturing. The deployment with PostNord is the latest expansion into a fresh market as potential customers are beginning to see a need for an AM operating system like Link3D to adequately utilize additive manufacturing across a variety of uses cases to support scan-to-print, prototyping, tooling, spare parts and production workflows.
ABOUT LINK3D
Link3D, headquartered in Boulder, offers an additive manufacturing execution system to connect the digital thread and enable organizations to adopt and scale their strategy for Industry 4.0. Link3D centralizes the digital manufacturing ecosystem by introducing various levels of configuration, automation, and simulations to unlock the true benefits of additive manufacturing. Visit Link3D here: www.link3d.co/
About PostNord and PostNord Strålfors
We make everyday life easier! PostNord is the leading supplier of communication and logistics solutions to, from, and within the Nordic region. We ensure the provision of a postal service to households and businesses in Sweden and Denmark. With our expertise and strong distribution network, we develop the conditions for tomorrow's communication, e-commerce, distribution and logistics in the Nordic region. In 2019, the Group had approximately 29,000 employees and sales of SEK 38.3 billion. The Parent Company is a Swedish public limited company with Group headquarters in Solna, Sweden. Visit us at www.postnord.com
PostNord Strålfors develops and provides communication solutions that give companies with many customers and suppliers completely new opportunities to create stronger and more personal customer relationships. With our digital platform, we deliver seamless communication, regardless of which channels the recipient requires. PostNord Strålfors is part of the PostNord Group - a leading provider of communication and logistics services in the Nordic region. PostNord Strålfors has operations in Sweden, Norway, Denmark and Finland, where our 700 employees generated sales of SEK 2 billion (2019). Visit us at www.stralfors.com
Featured Product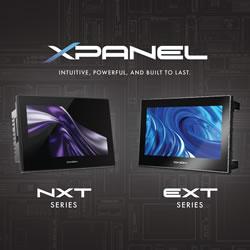 CIMON-XPANEL is a Windows CE based HMI unit. A combination of software and hardware, suitable for various monitoring needs within industrial sites.