The Smart3D Macro HT prints high performance materials featuring a 200°C chamber.
[November 5, 2020] Following on from the launch of the Smart3D Macro Prototyping Unit and Production Module, Industry Supplies announced their new 3D printing solution, launching next week at Formnext Connect. The Smart3D Macro HT offers excellence of printing in high-performance materials including Smart3D PEEK, PEEK CF, PEKK, ULTEM1010, ULTEM9085, PPSU, as well as supporting third-party materials.

The actively heated 200°C chamber ensures optimum print results based on the principle that thermal stability is crucial to enable a material extrusion process to produce high performance parts. Polymers, particularly crystallines, are prone to contraction when the chamber's temperature is unstable. In addition, when printing at the polymer's glass transition temperature, layer adhesion and isotropic strength are enhanced, which are key enablers for additive manufacturing to replace traditional subtractive processes. With the company's Hybrid Drying Technology™, materials are actively dried ahead of the printing to ensure reliable results.
The Macro HT also features a beltless motion system, utilizing ball screws for XY motion. This leads to improved accuracy and significantly reduced downtime, with less wear and tear and a reduction in regular maintenance. The Macro HT is production ready, enabling companies to transition from product development with their Prototyping Units (PU) to manufacturing with their Production Modules (PM) with a shared hardware, software and material platform. Smart3D PM's have been designed for a flexible configuration dependent on the user's needs. While companies may use their PM's for the mass production of repeated sets of parts, the customers can decide how many of each module's 4 print chambers need to be HT capable.
Offering the same unique software benefits as the Smart3D Macro, Macro HT utilizes the Smart3D Cloud, with the option to install the Smart3D LAN printer management software locally. The company's solution for the production floor is Smart3D Serverless, a decentralized neural network to provide safe connections with unbeatable redundancy. The Factory Management module offers multiple packages to integrate Smart3D systems with the factory's full workflow.
Smart3D Macro HT launches at this year's Formnext Connect and will be available from December 2020. Interested customers may visit Smart3D online at Formnext. To virtually attend the event next week (10th - 12th November 2020), customers can visit the Formnext ticket shop to benefit from 100% discounted tickets using the code FN20AS184.
Learn more at smart3d.tech
Featured Product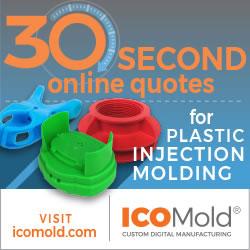 ICOMold provides plastic injection molding, CNC machining of plastic and metal, and urethane casting to customers worldwide in a variety of industries. We offer low-cost, high-quality custom plastic parts manufactured to your design, with a very fast turnaround. Any quantities from single prototypes to large, on-demand production runs. We are ISO 9001:2015 certified, and our production molds carry a lifetime warranty. Get an online quote in less than 30 seconds with our interactive quotation system.