Series A by BOM Brabant Ventures, Innovatiefonds Noord-Holland, Miller Turner, Midwest Technology Ventures and Materialise
AM-Flow, the Amsterdam and Brainport Eindhoven based industrial automation company for Additive Manufacturing factories, today announced it has completed a $4 million series A investment round. AM-Flow will use the investment to accelerate and support the 3D-printing industry by providing step-change automation, heading for the Lights Out Factory of the future. AM-Flow provides AI based computer vision, motion and robotics solutions to process 3D-printed parts at unprecedented speed and efficiency levels.

The Series-A funding round was led by BOM Brabant Ventures. The round was supported by new investors and AM industry leaders Materialise (Leuven, Belgium), Midwest Prototyping (Blue Mounds, USA) and Innovatiefonds Noord-Holland (Amsterdam, Netherlands), as well as existing investors Miller Turner and DOEN Participaties.
CEO Stefan Rink comments on the news: "We are delighted to welcome our new investors, and I would like to thank our existing shareholders for their continued support. This strong syndicate of high-tech investors validates our approach and the funding enables us to expand our solution portfolio and market presence."
The challenge with engineering 3D-printing production lines, is that they have to be able to process 3D-printed parts with an infinite variety of geometries. This poses difficulties in identification, sorting, quality control, handling, transporting and packaging automation for 3D-printing. By applying machine learning and an Industry 4.0 approach from the ground up, AM-Flow is able to deliver modular solutions for each step today.
CEO Stefan Rink: "We have a team that is passionate about enabling Additive Manufacturing to live up to its sustainability promise: local, distributed manufacturing. To drive further adoption of Additive Manufacturing, the industry must get to competitive price and quality levels per part, and shift her focus from the 3D-printer to the AM Factory."
Additive Manufacturing has matured to a $12 billion dollar industry today. Climate change asks for a fundamentally different approach than mass manufacturing and globally shipping physical products. The recent impact from the Corona crisis, again emphasized the need for local production, quick innovation cycles and short supply chains.
No better time than now, to tap into the growth of this emerging industry and address the challenges of our time, producing locally with full end-to-end automation. Leveraging earlier factory investments, keeping labor cost limited while scaling up and preventing cost driven offshoring of AM-factories.
CCO Carlos Zwikker adds: "Where we are now wouldn't have been possible without the support of our launching customers BMW, Shapeways, Midwest Prototyping, Oceanz, Marketiger and Materialise. We're hugely indebted to the vision these leading companies are propagating with their sustainable, smart factories!"
Quotes
"AM-Flow plays an important role in building the additive manufacturing ecosystem in Brainport Eindhoven", says Ilse Massart, Senior Investment Manager of Brabant Development Agency (BOM). "We are pleased to be able to contribute to AM-Flow's ambitious growth plans and to assist the management team in the international expansion."
"The success of scaling Additive Manufacturing as part of an end-to-end digital platform is not just dependant on continued innovation of the printing process itself, but also on whether we'll be able to handle the high variety of printed components in a cost-efficient way", says Bart Van der Schueren, CTO at Materialise. "That's why we are excited by AM-Flow's product portfolio, which creates a path towards cost-efficient scaling of the handling process".
Patrick Rodijk, Managing Partner at Miller Turner, added: "We were already an early seed investor in AM-Flow, and gladly support this Series-A investment round, based on the great results achieved by the AM-Flow team!"
Steve Grundahl, CEO Midwest Prototyping, comments: "We have been a partner of AM-Flow from their earliest days and through our beta testing have validated their forward thinking approach is just what Additive Manufacturing needs to continue the march towards realistic higher volume application. We are excited about the changes it has brought to our operation already and we're just getting started."
About AM-Flow
AM-FLOW started in 2018 as the Industry 4.0 technology provider for the Additive Manufacturing industry and quickly established itself as the global leader in 3D-printing post-processing and AM factory automation.
AM-Flow was co-founded by Jochem van der Spek (Director R&D), Gideon May (CTO), Bas van Berkestijn, Alewijn Medendorp and Stefan Rink (CEO). The management team has recently been strengthened by Carlos Zwikker (CCO) and Pieter Dekkers (CFO).
The AM-Flow production-line hardware automates the 3D-printing process end-to-end and connects via the AM-LOGIC software with all mainstream ERP/MES systems in the market, enabling full tracking and tracing of parts, routing through the factory.
Combining expert knowledge of 3D-shape identification, machine vision and artificial intelligence, AM-Flow today is the trusted AM workflow optimization and automation partner of leading global manufacturers in diverse industries, such as automotive, customized eyewear, health care and AM service providers.
Featured Product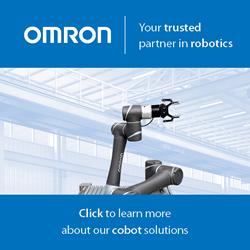 Humans and robots can now share tasks - and this new partnership is on the verge of revolutionizing the production line. Today's drivers like data-driven services, decreasing product lifetimes and the need for product differentiation are putting flexibility paramount, and no technology is better suited to meet these needs than the Omron TM Series Collaborative Robot. With force feedback, collision detection technology and an intuitive, hand-guided teaching mechanism, the TM Series cobot is designed to work in immediate proximity to a human worker and is easier than ever to train on new tasks.