The mission of the Industry 4.0 Accelerator is to attract startups from around the world that are developing the next generation of manufacturing technologies and connect them with Michigan's expansive advanced manufacturing ecosystem.
JACKSON, Mich. - The Automation Alley Industry 4.0 Accelerator, powered by Lawrence Tech University's Centrepolis Accelerator and the Lean Rocket Lab, today announced corporate partnerships with leading Michigan-based manufacturing and technology organizations.

"The Industry 4.0 Accelerator is a demonstration of what's possible when forward-thinking organizations recognize the opportunities to partner together and advance a stronger ecosystem for everyone," said Tom Kelly, executive director and CEO of Automation Alley. "We're growing talent and expanding resources to make Michigan's manufacturing industry more secure than it's ever been."
The mission of the Industry 4.0 Accelerator is to attract startups from around the world that are developing the next generation of manufacturing technologies and connect them with Michigan's expansive advanced manufacturing ecosystem. Manufacturing and technology startups that are accepted into the Accelerator receive a combination of capital, programming, and contracted services from partner organizations.
"From the beginning our vision was twofold: attract, invest in, and develop top industry 4.0 startups, and help them deploy their technologies into Michigan's robust manufacturing economy," said Brandon Marken, founder and CEO of the Lean Rocket Lab. "We believed this would create value for the startups, economic impact for the state and operational resiliency, and a built-in innovation pipeline for our manufacturers."
The founding corporate partners include Lear Corporation; Whirlpool Corporation; DENSO; Siemens; Magna; Faurecia; Comau; Design Systems, Inc.; Mirari; Electro-Matic Ventures; TAC; Nippon Piston Ring; ITR Solutions; Kundinger; Orbitform; Maintenance Technologies Consulting; Bosch Rexroth; the Jackson Area Manufacturers Association; and other manufacturing leaders across the region.
"Our corporate partners are critical to the program's success." said Dan Radomski, director of the Centrepolis Accelerator, on the Lawrence Technological University campus in Southfield. "We rely on the close relationships we have with these manufacturers to identify opportunities for catalytic matchmaking. We give the corporate partners exclusive access to the I4.0 technology companies in our pipeline; based on innovations they've identified interest in. In return our partners provide feedback, expertise, validation and oftentimes the pathway for technology demos, product development partnerships and in some cases even investment. These corporate partners represent small, medium and large manufacturers and already proving to be instrumental to validate these best in class global I4.0 technologies in a real-world manufacturing environment."
Two of the Industry 4.0 Accelerator corporate partners are large tier 1 manufacturers, Magna and Lear Corporation.
"Industry 4.0 is the natural progression of Magna's deep commitment to world-class manufacturing, and we look forward to forming connections through the Industry 4.0 Accelerator," said Josh Berg, director of Innovation Venture Development, Magna. "We can make a big difference to the bottom line with increased reliability and production efficiency, and with cleaner, safer manufacturing we can contribute to a more sustainable future for our planet."
And John Absmeier, Lear's chief technology officer, said: "Our partnership with Industry 4.0, aimed at discovering and developing emerging technologies with real business impact, reflects our ongoing commitment to operational excellence and innovation across our vast global footprint. Leveraging a wide range of smart manufacturing solutions enables Lear to lead in the industry 4.0 transformation providing superior quality, efficiency and performance for our customers."
To learn more about the Industry 4.0 Accelerator and to view a complete list of corporate partners, visit https://www.i40accelerator.com/.
About Automation Alley
Automation Alley is a World Economic Forum Advanced Manufacturing Hub (AMHUB) and a nonprofit Industry 4.0 knowledge center with a global outlook and a regional focus. We facilitate public-private partnerships by connecting industry, education and government to fuel Michigan's economy and accelerate innovation. Our programs give businesses a competitive advantage by helping them along every step of their digital transformation journey. We obsess over disruptive technologies like AI, the Internet of Things and automation, and work hard to make these complex concepts easier for companies to understand and implement. Visit automationalley.com.
About Lawrence Technological University's Centrepolis Accelerator
The Centrepolis Accelerator at Lawrence Technological University is accelerating the growth of Southeast Michigan's advanced manufacturing, innovative hardware entrepreneurs and small manufacturers by providing access to funding, experts and key business and product development resources. Visit centrepolisaccelerator.com.
About Lean Rocket Lab
The Lean Rocket Lab is a Jackson, Michigan based business incubator and member of the state-wide MEDC SmartZone Business Incubator Ecosystem through an agreement with the Enterprise Group of Jackson County and the Blackman Township SmartZone. The Lab exists to offer entrepreneurial services and provides business validation, incubation and accelerator programming to manufacturing/technology focused startups and support high tech innovation in the State. Visit leanrocketlab.info.
Featured Product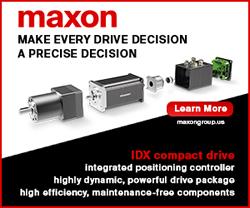 maxon motor launches new high-speed motors that are configurable online. The new ECX brushless motors are quiet and feature very high efficiency. The ECX motors are available with diameters of 8, 16 and 19 mm achieving speeds of up to 120,000 rpm. They run very smoothly and are highly efficient. With maxon motor's online configurator, it is easy to put together a customized DC motor to include gearhead, encoder and controller. The customized motors are ready to ship in 11 days!