Advanced Networking and Powerful Automation in One Operating System
Red Lion's FlexEdge™ Intelligent Edge Automation Platform now combines the scalability of Linux® with the power of Crimson® 3.2 software into one user-friendly operating system. This fusion enables a single FlexEdge controller to provide advanced networking, security, and automation. By integrating information technology and operational technology, FlexEdge helps customers reduce costs, improve data security, and increase productivity.

Powered by Crimson 3.2 software, the FlexEdge platform provides customers with maximum flexibility to easily modify controller functionality as application needs change. From advanced networking to automation, one controller does it all. Customers can enable additional functionality through field-unlockable software upgrades that eliminate the need to purchase or add more equipment, saving both money and unnecessary downtime.
These new capabilities open doors to new product combinations, further expanding the applications to which the FlexEdge platform can be deployed. With FlexEdge's modular communications sleds, users can now deploy multi-cellular radio gateways for critical communications applications. And, for environments with demanding requirements, the platform offers multiple isolated serial ports, routable Ethernet ports, optional serial, USB, Wi-Fi, and cellular communications sleds, and field-installable I/O.
To learn more about Red Lion's FlexEdge™ Intelligent Edge Automation Platform, visit www.flexedge.net
About Red Lion Controls
Red Lion has delivered innovative solutions to global markets since 1972 through communications, monitoring, and control for industrial automation and networking. The company's technologies enable customers worldwide to gain real-time data visibility that drives enhanced productivity. Red Lion is part of Spectris plc, the productivity-enhancing instrumentation and controls company. For more information, please visit www.redlion.net.
Featured Product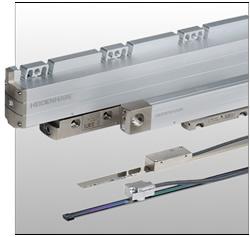 Nothing beats the positioning accuracy of linear encoders from HEIDENHAIN. Available in absolute and incremental versions and ideal for a variety of applications-including machine tools, semiconductor machines and medical machines-these measuring solutions combat a variety of issues that erode precision.