• CameraIQ is MVTec's new distribution partner • Stronger commitment in Russia • MVTec continues international growth course
Munich, July 29, 2020 - MVTec Software GmbH (www.mvtec.com), a leading provider of machine vision software, advances its strategic international growth initiative. With its new distribution partner CameraIQ, the Munich-based company is now gaining a stronger foothold in the growing Russian market. The partnership is aimed at strategically expanding MVTec's distribution network in this region and increasing its local visibility among Russian customers.

CameraIQ is a leading distributor of cameras and systems for machine vision in the Russian market. Founded in 2010 by experienced machine vision specialists and engineers, the company offers its customers cutting-edge optoelectronic devices, along with expert consulting, services, and technical support.
Products and services close to the customer
"This new distribution partnership is another example of our international growth course. As a well-established machine vision provider in Russia, CameraIQ gives us a stronger presence in this growth market, so that we can offer our customers even better product and service support on the spot," says Martin Krumey, Vice President Sales at MVTec.
"Software is one of the most important components of a machine vision system. The partnership with a leading provider of machine vision software like MVTec allows us to expand our portfolio and to offer our customers an increasingly comprehensive range of best-in-class products," says Anton Levenkov, Managing Director at CameraIQ.
About MVTec Software GmbH
MVTec is a leading manufacturer of standard software for machine vision. MVTec products are used in all demanding areas of imaging: semiconductor industry, surface inspection, automatic optical inspection systems, quality control, metrology, as well as medicine and surveillance. By providing modern technologies such as 3D vision, deep learning, and embedded vision, software by MVTec also enables new automation solutions for the Industrial Internet of Things aka Industry 4.0. With locations in Germany, the USA, and China, as well as an established network of international distributors, MVTec is represented in more than 35 countries worldwide. www.mvtec.com
Featured Product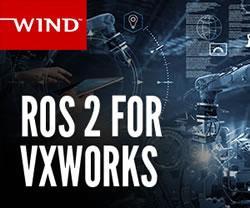 Develop new robotic capabilities with ROS 2 for VxWorks. ROS 2 for VxWorks® project provides custom modifications and build scripts to integrate the Robot Operating System 2 (ROS 2) framework with VxWorks 7. ROS 2 is a set of software libraries and tools that aid in building robot applications. Build ROS 2 for VxWorks using 1) with a VxWorks SDK that is available on the site under a free non-commercial use license; or via 2) with a commercially-licensed VxWorks product.