North America's largest and most influential 3D printing event celebrates 30th year
SME and Rapid News Publications' RAPID + TCT 2020 event, which will assemble the additive manufacturing/3D printing industry's best thinkers, innovators and doers April 20-23 in Anaheim, California, will feature a medical education track of in-depth knowledge covering the design and manufacture of implants, dental devices, tissues and more using a variety of additive manufacturing technologies.

RAPID + TCT, which in 2020 celebrates its 30th year, will spotlight the medical market in a Medical Additive Manufacturing Showcase that spans all four days of the event, because the benefits of additive manufacturing for medicine have made it a key market for the emerging technology. More than 100 of the event's 400 exhibitors have a medical focus.
"Our Medical Additive Manufacturing Showcase offers significant content for one of the fastest-growing segments in additive manufacturing," said Maria Conrado, SME's senior event manager for RAPID + TCT. "The showcase will feature two workshops on hospital-based 3D printing and regulatory and quality considerations; five conference sessions over three days with 18 presentations; a thought-leadership panel on hospital-based 3D printing; over 100 exhibitors focused on medical; and the Medical Additive Manufacturing Science Center on the exhibit floor. The highlight of the event's additive manufacturing medical content will be a keynote presentation on regenerative medicine by Dr. Anthony Atala of the Wake Forest School of Medicine."
Conrado said the thought-leadership panel — "Hospital-Based 3D Printing: Better Patient Care Through In-House Manufacturing?" — will focus on how additive manufacturing is changing the business model for hospitals, allowing them to produce some of their own devices, such as anatomical models, prosthetics, orthopedic implants, bone and tissue scaffolds, dental devices and bioresorbable materials. Andy Christensen, FSME, adjunct professor of the Department of Radiology at the University of Ottawa, will moderate the panel featuring panelists from Walter Reed National Military Medical Center, the Mayo Clinic, Veterans Health Administration and the Rady Children's Hospital in San Diego.
A key feature of the Medical Additive Manufacturing Science Center, Conrado said, are the Medical Enabling & Emerging Technologies (MEET) exhibitors. These are emerging companies featuring technologies to build awareness of the innovation occurring within the medical marketplace. Eight companies have been selected to participate in the MEET area.
Also, as part of this year's RAPID + TCT event, and in the Medical Additive Manufacturing Science Center, is the Live Lab presented by the Mayo Clinic. The Live Lab is an experience that will allow attendees to see and interact with the lab's biomedical engineers who work with radiologists and surgeons as they operate a 3D-printing lab for patients. The healthcare technology management experts will create patient-specific anatomic models and surgical guides, which allow for enhanced presurgical comprehension and planning.
To learn more about the general offerings at RAPID + TCT, visit rapid3devent.com. There, you can view the event schedule and see the list of exhibitors and speakers. Get involved in the conversation before, during and after the event by following RAPID + TCT 2020 on Facebook and @RAPID_Event on Twitter.
To learn more about the Medical Additive Manufacturing Showcase, the MEET area or the event's medically oriented workshops, conference sessions, exhibit floor features or the Live Lab, visit the Medical Additive Manufacturing landing page on the RAPID + TCT website through the following link: Medical Additive Manufacturing.
About SME
SME connects manufacturing professionals, academia and communities, sharing knowledge and resources to build inspired, educated and prosperous manufacturers and enterprises. With nearly 90 years of experience and expertise in events, media, membership, training and development, and also through the SME Education Foundation, SME is committed to promoting manufacturing technology, developing a skilled workforce and attracting future generations to advance manufacturing. Learn more at sme.org, follow @SME_MFG on Twitter or facebook.com/SMEmfg.
About Rapid News Publications Ltd & The TCT Group
Established in 1992, Rapid News Publications Ltd, the owner of the TCT Group, has been a leading authority in additive manufacturing, 3D printing, design and engineering technology for over 25 years.
The group's events and media products now deliver business-critical insights, intelligence and inspiration across Europe, North America and Asia on 3D printing, additive manufacturing, CAD/CAM/CAE, metrology, inspection and materials as well as highlighting the latest developments in conventional manufacturing processes such as moulding, casting and CNC machining.
The TCT Group mission is to accelerate the adoption of additive manufacturing and 3D printing technologies that power innovation in the design-to-manufacturing process chain. Enabling companies across the complete spectrum of industry to achieve the goal of world-class design and manufacturing functions within their organizations.
The TCT Group (www.thetctgroup.com) is owned by Rapid News Publications Ltd (www.rapidnews.com) a member of the AEO (Association of Event Organizers) and BPA Worldwide.
Featured Product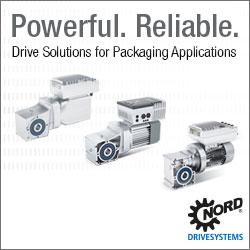 NORD's redesigned line of small CLINCHER parallel gear units showcase increased power and torque capacity for a variety of applications. These re-engineered versions will be replacing the existing SK0182NB, 0282NB, and 1382NB units. They are lightweight, have improved heat dissipation, are more cost-effective, and are available with NORD nsd tupHTM sealed surface conversion for wash-down and extreme environments.