The New ezEX RJ45® Starter Kit (p/n 90188) is Now Available for a Special Price and Includes the EXO™ Crimp Frame with EXO-EX Die, with Numerous ezEX® RJ45 Connectors in All Sizes, and an Assortment of Strain Reliefs
NEWBURY PARK, Calif., Feb. 11, 2020 - Platinum Tools® (www.platinumtools.com), the leader in solutions for the preparation, installation, hand termination and testing of wire and cable, is proud to announce the launch of the new ezEX RJ45® Starter Kit (p/n 90188). With a normal retail price of $205, the kit will be available for a special introductory of cost of only $99.99.

"In today's networks, twisted pair cables are demanding more speed and bandwidth, often carrying power in PoE applications," explained John Phillips, Platinum Tools, Inc. product manager. "To help meet these requirements and the changes in cable they have necessitated, customers are converting to the ezEX line of connectors. Platinum Tools' new ezEX RJ45® Starter Kit provides an easy way to make the switch and meet these higher performance demands."
The new ezEX RJ45® Starter Kit contains:
• EXO™ Crimp Frame with EXO-EX Die
• ezEX®38 connector (25pcs.)
• ezEX®44 connector (50pcs.)
• ezEX48® connector (25pcs.)
• ezEX® strain reliefs in asst. colors (20pcs.)
The patented EXO™ Crimp Frame with the interchangeable EXO-EX Die is designed to terminate the patented, pass-through ezEX-RJ45 connectors. This new series of connectors will cover a wide range of insulation diameters (conductors) and cable jacket diameters, making it easy to select the right connector for your cable. All three sizes, ezEX38, ezEX44, and ezEX48, shielded or non-shielded, are rated for 10 Gig and PoE+ and can be used for Cat6A, Cat6, and Cat5e, covering a full insulation diameter range of 0.83mm - 1.22mm.
For additional pricing and more information on Platinum Tools and its complete product line, please visit www.platinumtools.com, call (800) 749-5783, or email info@platinumtools.com.
About Platinum Tools
Platinum Tools LLC, an NSi Industries company, was created based upon two very simple objectives. First, develop the absolute best possible solutions for the preparation, installation, and hand termination of wire and cable. Second, implement an operational infrastructure that can deliver these products in an efficient, timely, and high quality manner.
All of our products must absolutely satisfy three critical benchmark criteria…utility of function; quality of function; and economic value. Our people are our company. They, too, must be focused on and work to satisfy three critical benchmark criteria…customer satisfaction; product knowledge and expertise; and willingness to learn and adapt.
# # #
Featured Product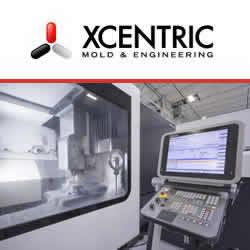 Xcentric plastic injection molding services focus on rapid delivery of prototype and low-volume production components. Our production processes are streamlined such that we typically deliver first articles in less than 15 business days, and for simple expedited projects in as little as five days. At the other end of the spectrum, we frequently produce components for customers needing a few hundred thousand components as a bridge to higher productivity molds. Over time, we have earned a reputation for being able to handle highly complex projects, overmolding, custom insert molding, and other complicated projects much faster than with traditional tooling, often helping our clients get to market weeks, if not months earlier. At Xcentric, every mold is designed and fabricated and all production is run in one of our two Michigan-based facilities.