- Significant updates to SOLIDWORKS complementary packages enable designers to amplify design freedom, increase efficiency and gain competitive advantage. - Customers using 3DXpert for SOLIDWORKS can reduce design time of complex geometries by up to 50 percent. - 3D Systems' complementary software solutions as well as its 3D printers will be on display at 3DEXPERIENCE World 2020, February 9-12, booth #117.
3D Systems (NYSE:DDD) is transforming customers' digital design and manufacturing environments and putting software at the core of its strategy. Today, the company unveiled its latest software solution - 3DXpert® for SOLIDWORKS 15 - which empowers SOLIDWORKS customers to easily prepare and optimize their designs for additive manufacturing, allowing them to design complex structures and accelerate the product design life-cycle with better automation and seamless bi-directional data exchange from and to SOLIDWORKS. These enhancements help provide an accelerated path to design freedom, increased efficiency, reduced total cost of operation, and gain competitive advantage for a range of applications and industries.

The growth of additive manufacturing is contingent on optimizing digital workflows and that begins with reimagining how software supports the process and corrects the core issues that pose significant challenges for designers. Until now, the design toolset available has been oriented for traditional manufacturing techniques, which has created barriers to digital manufacturing workflow optimization. In addition, designers have faced demand for lighter weight parts and parts that possess complex geometries. 3D Systems' latest software solution addresses these challenges and unlocks new possibilities, including the ability to create more shapes in more ways.
"Software is the foundation of transformative digital manufacturing solutions," said Radhika Krishnan, executive vice president, software, healthcare, & digitization, 3D Systems. "Looking at our expertise and combining that with our end-to-end software portfolio solutions and the specific needs of SOLIDWORKS designers, we realized that we could help SOLIDWORKS users streamline their digital manufacturing workflows and gain competitive advantage in several ways such as adding design for additive manufacturing capabilities to their toolset with 3DXpert for SOLIDWORKS 15. In addition, SOLIDWORKS users can accelerate their product design cycle and reduce the time - from hours to minutes - required to build CAD models of real-world objects using advanced scan-to SOLIDWORKS capabilities that are included in our Geomagic® for SOLIDWORKS solution. Users can also use GibbsCAM®, our complementary CAM solution to complete their subtractive design and manufacturing workflow."
3DXpert for SOLIDWORKS is an add-on for SOLIDWORKS, extending SOLIDWORKS' design capabilities with a complete DfAM toolset, equipping designers with everything they need to prepare and optimize their designs for 3D printing.
3DXpert for SOLIDWORKS 15 further enhances the direct path from SOLIDWORKS to additive manufacturing and enables users to:
Shorten the design cycle with enhanced bi-directional data transfer: Seamless bi-directional data transfer achieved with the click of a button - reducing time and effort while preserving data integrity.
Optimize design structure with an enhanced lattice development suite: Designers can now develop bespoke structures to capitalize on intellectual property, reduce costs and gain competitive advantage, in addition to using the rich library of predefined lattice structures.
Easily achieve successful prints with automated tools & workflows: A new power-supports capability fully automates support generation for multiple geometries with the click of a button. In addition, enhanced build simulation capabilities provide designers with clear and immediate feedback on their design decisions.
General availability of the new version of 3DXpert for SOLIDWORKS 15 is planned for March 2020. Designers and engineers can experience the benefits of 3DXpert for SOLIDWORKS through a free trial available for download.
Geomagic for SOLIDWORKS will also be on display at the show and is the industry's only complete integrated 3D scan-to-SOLIDWORKS software solution. The software helps designers reduce the time - from hours to minutes - required to build CAD models of real-world objects by using advanced, automated wizards to quickly and easily create sketches, surfaces, and feature-based editable solid parts inside SOLIDWORKS - directly from 3D Scan data.
3DEXPERIENCE World 2020 attendees can see 3D Systems' broad manufacturing portfolio encompassing software, materials, 3D printers, and services including: 3DXpert for SOLIDWORKS, Geomagic for SOLIDWORKS, 3DXpert, Geomagic Design XTM, GibbsCAM, and Figure 4® Standalone in booth #117 February 9-12.
Featured Product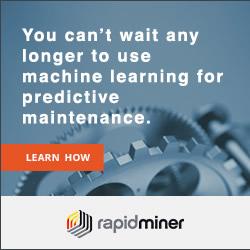 RapidMiner offers a data science platform that's built to enable people of all skill levels across the enterprise to quickly build and operate AI solutions to drive hard ROI for their organizations. Many data science tools are built to create accurate models, but cannot help manage the models into production, where they can have an impact. The platform covers the full lifecycle of the AI production process from data exploration and data prep to model building, model deployment and model operations. RapidMiner can help with a wealth of manufacturing use cases, like designing smart products, running smart factories, forecasting demand, ensuring quality, reducing production downtime, and managing supply chain risk.