Fast Radius announced today that it is joining MxD as an official Tier 2 Manufacturer, solidifying a partnership to advance digital manufacturing in the U.S. and beyond. As part of the partnership, Fast Radius has opened a satellite office at MxD's innovation center on Goose Island.
Fast Radius is a manufacturing innovation partner that helps make new things possible for today's leading product companies, partnering with customers from design through fulfillment to improve production chain efficiency and help create breakthrough applications.

MxD, formerly the Digital Manufacturing and Design Innovation Institute (DMDII), is a non-profit that brings hundreds of entities together to advance the future of the U.S. manufacturing industry. Its state-of-the-art innovation center offers its partners an ideal environment to focus on developing, demonstrating, deploying, and commercializing innovations that address manufacturing's most pressing problems.
"We're excited to combine Fast Radius's mission to 'make new things possible' with the MxD mission to help U.S. manufacturers build every part better than the last," said Chandra Brown, CEO of MxD. "By including Fast Radius's innovation platform into our manufacturing testbed, our partners will get firsthand access to additive manufacturing processes and techniques to co-create use cases and test applications for the future of manufacturing."
Located on Goose Island, DMDII launched in 2011 as part of the National Network for Manufacturing Innovation, an interagency initiative by the White House made up of public/private partnerships devoted to manufacturing excellence. Fast Radius Chief Executive Officer Lou Rassey and Chief Scientist Bill King served as an advisor and Founder and Chief Technology Officer to DMDII, respectively.
"MxD is a big part of our heritage," said Rassey. "Bill and I met at DMDII and worked with a variety of industry experts, uncovering the technologies and business innovations that will disrupt the manufacturing industry," said Rassey. "The concept for what eventually became Fast Radius was due in part to the meaningful work we did together forming what eventually became MxD. We're excited to grow our company by bringing it back to our roots."
Within its state-of-the-art headquarters in the West Loop of Chicago, Fast Radius is building a disruptive production model, fueled by a combination of the latest in advanced manufacturing technologies and proprietary software that enables a digital thread across a product's manufacturing cycle. For Fast Radius, partnering with the new leadership at MxD and opening an office on site will enables them to continue the mission of making new things possible through manufacturing.
Fast Radius' headquarters was named one of the world's nine most innovative factories, also known as a "manufacturing lighthouse," by the World Economic Forum—
the only North American company to receive this recognition. The factory includes industrial-grade additive manufacturing technologies like HP Multi Jet Fusion and Carbon Digital Light Synthesis, which helps the company serve customers across verticals including automotive, industrial, aerospace, and consumer products.
Featured Product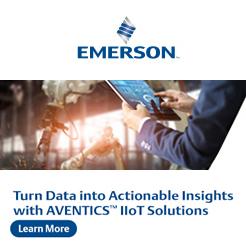 When OEMs and manufacturers need reliable pneumatics for industrial automation applications, they look to the extensive AVENTICS portfolio of cylinders, valves, air preparation and pressure regulators, engineered in Germany. With a compact design and low-maintenance technology to actuate machinery, AVENTICS pneumatics can be trusted to deliver steadfast and long-lasting operation even in the most demanding applications and environments.