IAI uses Anybus embedded technology from HMS to connect their robot and motion controllers to various industrial networks in factories around the world.
The Anybus embedded products offer multi-network connectivity to all major fieldbus and industrial Ethernet networks, and come in Chip, Brick and Module formats to match different integration needs among customers. Currently, the main product used by IAI is the Anybus CompactCom interchangeable communication modules.

Long collaboration between IAI and HMS
IAI and HMS have been working together successfully for almost 20 years, and during that time IAI has been using several different generations of embedded Anybus products.
"When we started the development using Anybus products for the first time 18 years ago it was I that developed application software. I remember that HMS gave us prompt and kind support when we made lots of questions during the development. One of the biggest advantages to use HMS products is the excellent service and support that HMS provides thanks to their Japanese operations. That makes HMS differentiated. Still today we use Anybus modules and the support that HMS gives us remains unchanged" says Mr. Tsukuda, Software Development Manager at IAI Corporation.
"We are very excited about having delivered the 7 millionth Anybus product to IAI" says Bartek Stelmasiak Candell, General Manager for Market Unit Asia at HMS Networks, and continues "The Anybus embedded concept supports all the major fieldbuses and industrial Ethernet networks that IAI requires for their robot and motion controllers, and this enables them to connect to the various control systems used by their customers in automation technology".
"The first million Anybus modules took us more than 10 years to deliver and now we have gone from 5 million to 7 million in only 2 years which is fantastic," says Staffan Dahlström, CEO at HMS Networks, and continues. "We are very happy about the success of Anybus and are proud about our ability to ensure secure and smart communication in thousands of factories all around the world, enabling full equipment and resource control for our customers and their end user customers".
About Anybus - the history of a ground-breaking innovation
The first Anybus module was developed in 1994. The number of fieldbuses increased rapidly and the Anybus embedded concept allowed device manufacturers to connect to any industrial network in an easy way. Over the last decade, the evolution of industrial networks has continued, and many industrial Ethernet protocols with high performance have been introduced. With full fieldbus and industrial Ethernet connectivity, IT-features and solutions for functional safety and security, the Anybus technology has always been in the forefront, now also covering wireless technologies. Today, seven million Anybus products are deployed in the field. The multi-network connectivity offered by the Anybus concept is still the key benefit to the user.
About HMS Networks
HMS Networks is the leading independent supplier of solutions for industrial communication and the Industrial Internet of Things. HMS develops and manufactures products under the Anybus®, Ixxat® and Ewon® brands. Communication solutions for building automation are offered through the subsidiary Intesis. Development and manufacturing take place at the headquarters in Halmstad, and in Ravensburg, Nivelles, Igualada and Wetzlar. Local sales and support are handled by branch offices in Germany, USA, Japan, China, Singapore, Italy, France, Switzerland, Spain, India, UK, Sweden, Finland, South Korea and UAE, as well as through a worldwide network of distributors and partners. HMS employs over 600 people and reported sales of SEK 1,366 million in 2018. HMS is listed on the NASDAQ OMX in Stockholm, category Mid Cap, Information Technology.
Featured Product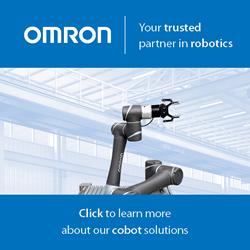 Humans and robots can now share tasks - and this new partnership is on the verge of revolutionizing the production line. Today's drivers like data-driven services, decreasing product lifetimes and the need for product differentiation are putting flexibility paramount, and no technology is better suited to meet these needs than the Omron TM Series Collaborative Robot. With force feedback, collision detection technology and an intuitive, hand-guided teaching mechanism, the TM Series cobot is designed to work in immediate proximity to a human worker and is easier than ever to train on new tasks.