Introducing Vention's new pneumatic ecosystem powered by SMC, a fully integrated plug-and-play system compatible with the Vention digital engineering platform.
Vention, a next-generation machine design platform, is proud to announce the launch of its pneumatic solutions in partnership with SMC, an industry leader in pneumatic technology for machine automation. The SMC pneumatic plug-and-play system was developed to seamlessly integrate with Vention's cloud CAD (MachineBuilder 3D) and motion control platform (MachineMotion controller and MachineLogic cloud software).

Vention's cloud-based platform allows anyone to design, order and assemble industrial-grade machines in just days. The new pneumatics integration enables an even broader range of applications to be designed and built with Vention in record-breaking time. Pneumatic solutions are useful in a variety of automated equipment contexts, notably, automated aerospace fixtures, robot cells, complex conveying applications, and custom manufacturing equipment.
"We're excited to be adding pneumatics solutions to our offering and expanding the type of projects we can develop with it," says Etienne Lacroix, Vention's founder and CEO. "We looked for a credible industry leader who could provide reliable and high-performance products that would integrate seamlessly with the Vention ecosystem. SMC was the obvious choice. This partnership will provide exceptional value to our clients."
Vention's pneumatic solutions include an air preparation station, dual-acting compact cylinders available in 100 mm and 200 mm stroke variants, tubes of various lengths, and one-, two-, three- and four-valve manifolds operated via Vention's MachineMotion controller and MachineLogic software.
"Our partnership with SMC brings the best of the Vention platform together," says Max Windisch, Co-founder and CTO at Vention. "Users of Vention, will be able to design pneumatic equipment online, develop and simulate the logic of their machine in the same environment, and deploy their pneumatic sequence directly to their shop floor, without having to install or learn proprietary software or programming language. Pneumatic projects will be greatly simplified as a result."
For more information on the Vention Pneumatic Ecosystem powered by SMC, visit https://www.vention.io/blogs.
About Vention
Vention is a next-generation digital manufacturing platform for machine design, enabling engineers and other manufacturing professionals to design, order, and assemble custom factory equipment in just a few days. Vention's AI-enabled, cloud-based MachineBuilder 3D™ integrates a comprehensive library of modular parts for applications such as robot cells, tooling, and automated equipment. Vention is headquartered in Montreal, Canada, and is backed by Bain Capital Ventures.
For more information, visit http://vention.io.
About SMC Automation Canada Ltd.
SMC Automation Canada Ltd. is part of a global organization that supports customers in every industrialized country, and is the Canadian subsidiary of SMC Corporation based in Japan.
Since its establishment, SMC has been a leader in pneumatic technology, providing industry with technology and products to support automation. Over the past 50+ years, SMC's products have become established as a recognized international brand through sales, technical, supply and after sale services in world markets. http://www.smcpneumatics.ca/
Featured Product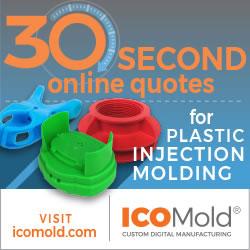 ICOMold provides plastic injection molding, CNC machining of plastic and metal, and urethane casting to customers worldwide in a variety of industries. We offer low-cost, high-quality custom plastic parts manufactured to your design, with a very fast turnaround. Any quantities from single prototypes to large, on-demand production runs. We are ISO 9001:2015 certified, and our production molds carry a lifetime warranty. Get an online quote in less than 30 seconds with our interactive quotation system.