ZYFRA announced it has joined the NVIDIA Inception program as a community member. The Inception program is designed to nurture start-ups revolutionizing industries with advancements in AI and data sciences.
ZYFRA is a Finland-based company with an R&D center in Russia, which provides IoT and AI-based solutions for industrial sectors. The company is operating in Finland, Russia, China, India, Singapore, Bulgaria, Romania, and Peru. The ZYFRA Eye solution allows monitoring of unconnected industrial equipment for a fraction of the price of a traditional machine data collection installation. Joining the NVIDIA Inception program will help support ZYFRA's Computer Vision and Deep Learning solutions.

"We are happy to join many other startup companies which are using state-of-the-art developments in the field of Deep Learning. The ecosystem will allow us to open opportunities and gather knowledge for developing products based on Computer Vision, such as excavator's bucket teeth control system, industrial safety system, and product quality control system."- said Alexandr Smolensky, business development director of ZYFRA Group.
NVIDIA Inception is a virtual accelerator program that helps startups during critical stages of product development, prototyping and deployment. Every Inception member gets a custom set of ongoing benefits, including NVIDIA Deep Learning Institute credits, marketing support, and hardware technology discounts enabling early-stage startups with fundamental tools to help them grow.
Featured Product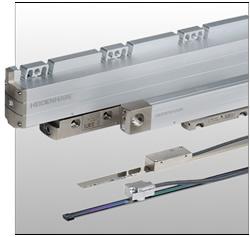 Nothing beats the positioning accuracy of linear encoders from HEIDENHAIN. Available in absolute and incremental versions and ideal for a variety of applications-including machine tools, semiconductor machines and medical machines-these measuring solutions combat a variety of issues that erode precision.