CNC Machines will be an exhibitor at the upcoming FABTECH expo (exhibitor booth #A2181)
Sanford, FL - - - CNC Machines will be an exhibitor at the upcoming FABTECH expo (exhibitor booth #A2181) from November 11 through 14 in Chicago, offering on-the-spot help to attendees who are buying or selling their CNC machines. They will provide complimentary equipment estimates, a seller listing on their website, and even, for some, on-the-spot cash offers.

The annual FABTECH event brings metal manufacturers together to introduce them to the latest industry innovations and technology solutions to help them grow their businesses and stay competitive. More than 48,000 are expected to be in attendance along with more than 1,700 exhibitors. The expo includes educational sessions and expert-led presentations covering the latest trends and technology in the metal forming, fabricating, welding and finishing industries.
"Our team is really looking forward to this event which shines a spotlight on metal manufacturing at its best. We will be helping those in attendance at FABTECH to either sell their used fabrication and CNC equipment so they can make room for tech upgrades" said Curt Doherty, Founder, and CEO, CNC Machines.
Doherty was recently featured in the FABTECH blog, talking about CNC valuation. The post gave tips on the most effective ways to valuate used equipment and strategies to maximize profit via used machinery.
Founded in 2014, CNC Machines is a used CNC machine dealer, carrying more than 500+ machines to meet the needs of small to mid-sized manufacturers. It was recently featured among Inc. 5000's list of 2019's fastest-growing American companies and is a member of the Society of Manufacturing Engineers and The Association For Manufacturing Technology. The business has been mentioned in many notable publications including Industry Week and Forbes. Doherty is a member of the Forbes Council, which is made of small groups of best-in-class industry professionals who offer insights and experience to the publication's readers.
For more information about CNC Machines, go to cncmachines.com or visit them at FABTECH, booth #A2181.
# ## #
Featured Product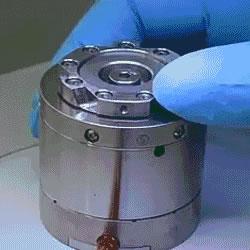 A traditional gantry system employs X-Y or X-Y-Z range of motion. Mounted on a base plate, usually granite, 2 parallel rails constitute the synchronized Y axis motion while the cross axis (bridge axis) provides the X motion. A vertical axis can be added on the bridge for the Z motion. A Split Bridge system can be less complex than a traditional gantry system because synchronization of the two parallel linear motors is not required. Both systems are used in industrial production, testing, and additive manufacturing.