Vibratory pellet screen replaces manual separation process in color concentrate manufacturing lines
For processing industries, the process is everything. While current processes may be sufficient to keep the doors open today, they often can hinder taking business to the next level tomorrow. Zeroing in on one key element can sometimes be enough to put productivity into overdrive. One manufacturer of custom color concentrate and additives, for instance, found that it could reach new levels of productivity and growth by turning to advanced separating equipment of innovative design.

Having previously relied on operator inspection and hand screeners to check the quality of their color concentrate and additives, Accurate Color & Compounding (ACC) sought a more efficient solution. As a specialist in precision color matching, ACC prides itself in producing custom color concentrate and additives to customer specification, and has the capability of matching, sampling, producing and delivering colorant in the same day when necessary.
However, recent growth had company leaders realizing that productivity would need a boost, particularly in quality assurance, to grow business to the next level. Production started with extruders, which pushed out plastic that got cut to size in an underwater pelletizer. The result was cooled with water, put through a drying system, and shipped. Previously, for quality control the process relied on operator inspection and the use of hand screeners on the production lines. "It was a challenge to efficiently separate material to custom specifications, including precise densities and different pellet shapes," says Jason Yelm, Plant Manager of (ACC). "The inspection process was labor intensive and if any product was borderline, the entire batch was re-processed. For the most efficient material processing, adjustable separation equipment which enabled separation quality of the pellets to be optimized was necessary."
As a final quality check before drying, Yelm trialed on-site at no cost a 40" separator by Russell Finex a manufacturer of Separators, Screeners and Filters with over 85 years of experience. Pleased with the results, he bought the Separator as well as six more he's added to production lines in the last year. "Compared to traditional spring-type Separators, I like the capacity, throughput, and adjustable weight system of the Russell Finex Separator™," says Yelm. "After the trial, it was clear the machine was right for the job."
The switch to modern screening at ACC has not only helped to ensure quality and minimize reprocessing, but also improved operator productivity up to 50%. The new separators have boosted production uptime as well, according to Yelm. "They've eliminated stoppages in our dryer caused by oversize and reduced the need to change die heads by 30 to 40%, minimizing downtime," he says. "By setting up specific mesh sizes for customers, we provide the exact pellet size they want with every production run; and we let runs go longer since we reliably filter out any undesirable sized pellets."
Discover the extended case study at: https://www.russellfinex.com/en/case-studies/separating-plastic-pellets-at-accurate-color-and-compounding/
Worldwide leaders in fine mesh separation technology, Russell Finex has been designing and manufacturing vibratory screeners, separators, ultrasonic mesh deblinding systems and self-cleaning in-line filters for a wide variety of industries. Contact the company for more information about how it can cater to your specific requirements at www.russellfinex.com
Featured Product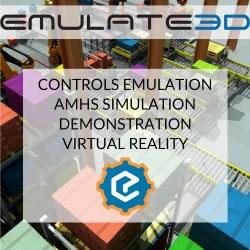 Emulate3D software helps you model and test your AMHS solutions rapidly. Use Demo3D to create running models quickly, then generate videos, stills, or view the models in virtual reality at the click of a button. Sim3D enables you to carry out experimental test runs to select optimal solutions and the most robust operating strategy, and Emulate3D Controls Testing is the best way to debug your PLCs offline, and off the project's critical path. Connect to major PLCs, import CAD, and plug into HTC Vive and Oculus Rift to produce awesome models!