eMove360° Europe 2019 is the world's largest trade fair for "Mobility 4.0" – a movement focusing on sustainable, next-generation mobility solutions
Milpitas, CA - October 10, 2019 -AREVO, the Silicon Valley company redefining global composites manufacturing through digitalization, will feature its "AREVO DNA™" technology, used to create the world's first 3D-printed carbon fiber unibody production bike frame, in the JEC Group "Composites Solutions for Mobility" booth eMove360° Europe 2019 in Munich, October 15 - 17, 2019.

JEC Group is the world's leading company dedicated entirely to the development of information and business connections channels and platforms supporting the growth and promotion of the composite materials industry. AREVO, along with BCOMP and MAI CARBON, is an official sponsor of the JEC Group Composites Pavilion, which is dedicated to "Smart & Sustainable Composite Solutions for Future Mobility."
As evidenced by two major customer wins in the last six months, AREVO is making a significant impact in the e-bike sector and is now targeting e-scooter and "flying car" (also known as "eVTOL," for electric Vertical Take Off and Landing vehicles) markets with its patented AREVO DNA™ technology. AREVO DNA is unique in the 3D printing, or additive manufacturing, world as it features patented software algorithms for generative design, free-motion robotics for "True 3D" construction, and direct energy deposition for virtually void free construction -- all optimizing the strength and weight of anisotropic composite materials, such as carbon fiber reinforced thermoplastics.
"Current and emerging e-mobility vehicles will require frames and parts that are both lightweight and extremely durable and scalable manufacturing technology to meet production demands, especially in the case of eVTOLs," said Wiener Mondesir, CTO & Cofounder. "Further, the transportation industry as a whole will be exploring new form factors for these vehicles. In that regard, the AREVO DNA process enables an almost unimaginable level of design freedom and meets the other criteria as well in a cost-effective manner. We are excited to explain it further at the JEC Composites Pavilion."
AREVO executives Wiener Mondesir and Magda Zydzik are available during exhibit hours for interviews with the press. Please contact AREVO's media representative listed below for more information.
About AREVO, Inc.
AREVO is delivering the future of composite manufacturing today through breakthrough advancements in software, materials, and robotics. Through enabling the 3D printing of
large, mass-produced parts and structures from bikes to flying cars, AREVO is revolutionizing mainstream manufacturing and the global supply chain. www.arevo.com
Featured Product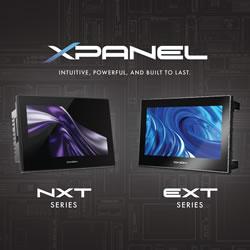 CIMON-XPANEL is a Windows CE based HMI unit. A combination of software and hardware, suitable for various monitoring needs within industrial sites.