More than 170 sessions provide relevant, solution-based training led by industry thought leaders and subject matter experts
CHICAGO, ILLINOIS (October 3, 2019) - FABTECH 2019, North America's largest metal forming, fabricating, welding and finishing event, is pleased to announce its 2019 Education Program focused on providing the industry with solution-based, transformative content. The FABTECH education series takes attendees beyond the show floor, allowing them to explore answers for today's industry challenges. With targeted technical, operational, economic and managerial sessions, the industry will have the opportunity to discover solutions that impact productivity and increase profits.

Top industry experts, including C-level executives, owners, manufacturing engineers, plant managers and research and development professionals, have been selected as speakers to share their wealth of knowledge and experiences. These subject matter authorities are set to lead collaborative discussions and presentations to provide an exchange of best practices and explore the industry's latest technology and advancements. Key tracks include 3D/Additive Manufacturing, Automation, Cutting, Finishing, Forming & Fabricating, Laser, Lean, Management, Marketing & Sales, Smart Manufacturing, Stamping, Welding & Welding Fabrication and Workforce Development.
"As the premier industry event, FABTECH remains steadfastly committed to providing a platform for learning—not only on the fundamentals to support business growth, but to provide a collaborative forum on key issues impacting our industry," said John Catalano, SME senior director, FABTECH. "FABTECH serves as a catalyst for growth and preparing for the future, with topics ranging from marketing and business best practices to IoT, additive manufacturing, smart manufacturing, workforce development and more. Whether it's through hands-on demonstrations or formal education sessions, you will leave FABTECH with tools, resources, support and inspiration to achieve your business goals."
With more than 170 learning sessions, education topics provide something for all experience levels who are seeking an opportunity to engage with relevant, solution-based training. Several sessions combine classroom instruction with expert-led tours across show floor booths to see and interact with emerging technologies. Workshops provide a more in-depth look at current industry challenges and opportunities for transformation. A few standout sessions include: Leading and Preparing an Industry 4.0 Organization and Workforce; Lean Principle: Getting Started with Your Lead Journey; OEM Quality Excellence: 6 Practice Steps to Becoming an Award-Winning Supplier; Build a Sales Strategy and Model for Scalable Growth; Sustainable Social Media Strategies; Sheet Metal Design and Press Brake Automation; Smart Manufacturing on Predictable ROI; Enable the Transformation to Next Gen - Family Business; and more. Click here for a complete schedule-at-a-glance.
Exclusively focused on advancing the metal forming, fabricating, welding and finishing industries around the world, FABTECH 2019 provides a platform for the industry to collaborate, discover innovation, share ideas and participate in hands-on product demonstrations and education sessions that highlight solutions attendees need to transform their business. Registration for FABTECH 2019 is now open-visit fabtechexpo.com to register and obtain more event details.
###
ABOUT FABTECH
FABTECH is North America's largest metal forming, fabricating, welding and finishing event. The event provides a convenient venue where you can meet with world-class suppliers, see the latest industry products and developments and find the tools to improve productivity and increase profits. FABTECH is made possible by its five co-sponsors, all of whom represent the varied and diverse makeup of the manufacturing industry. They include the American Welding Society, the Chemical Coaters Association International, the Fabricators & Manufacturers Association International, the Precision Metalforming Association and SME.
Featured Product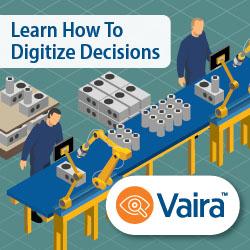 Pleora's Visual Inspection System helps operators detect errors and defects for unique component types, assembly steps, and custom low-run products where automated optical inspection (AOI) is too complex and expensive. The system helps DICA Electronics: Avoid costly, errors as a result of detecting errors at different phases in production, Speed time in detecting the root cause of the in-field errors with Tracking & Reporting apps for traceability, Maintain consistency in training new employees on requirements or with staff any time a new product is added, Easily train the system using 'good product' images for multiple product lines with no programming skills required, Reduce subjective decision-making, especially over a long shift, reducing error-escapes.