Europe's Number 1 Photochemical Machining Specialist is Promoting Its Unique Services to the North American Medical Device Market
(17th September 2019. Birmingham, United Kingdom.) The medical device sector is like no other in its drive for precise and innovative products, many by their nature being safety-critical, and therefore having to be made to exacting quality standards from high-performance materials that are strong, light, and biocompatible when implanted.

Many medical device OEMs have a particular interest in the use of titanium, which is notoriously challenging to manufacture using traditional production technologies, its strength making it time-consuming and costly to machine, punch, press, or stamp.
Precision Micro, Europe's number one photochemical machining specialist, has devoted significant resource and investment into optimizing the process for use on medical-grade metals such as titanium and its alloys.
Today it is the only European chemical etching company that can mass manufacture titanium parts and components for an array of medical OEMs and applications.
Applying chemical etching to titanium eliminates stress- and burr-related problems associated with alternative manufacturing technologies, and opens up an array of possibilities in the areas of medical implants.
Key characteristics of etched titanium parts are the smoothness of surface and openings, and the elimination of burrs and surface irregularities. The process is highly repeatable and economical, with an image of the part effectively being printed onto the sheet metal before being selectively etched away in a single operation. The digital "photo"-tooling used to print the image does not wear, ensuring the components produced day one are identical to components produced a decade later.
Stimulated by a significant investment in its titanium etching capability in 2015, the rapid uptake in demand from medical OEMs in Europe for titanium parts and components has enabled Precision Micro to hone its service in readiness to position itself to cater for demand from the world's largest medical devices market, namely the United States.
This market focus has itself been stimulated by the fact that the company was recently awarded ISO 13485 accreditation, making Precision Micro one of only two etching companies globally that are accredited to supply the medical device market.
Companies with ISO 13485 communicate a commitment to quality to both customers and regulators, and it is a tangible demonstration of the fact that Precision Micro can produce components for safe and effective medical devices that meet the regulatory requirements of its medical customers.
Precision Micro is experienced in manufacturing an array of etched titanium implants, as well as intricate meshes used in pacemaker batteries, orthopaedic implants, medical electronic components, and craniomaxillofacial (CMF) implants.
Craniomaxillofacial implants. Biocompatible cranial and dental implants can be extremely feature dense, and demand burr-free edges which traditional machining technologies find difficult to achieve. Etched implants benefit from zero thermal distortion and burr-free openings. Complex, accurate aperture arrays and countersinks can be included at no additional cost, removing the need for additional machining.
Cardiac rhythm management. Precision Micro manufactures intricate, 0.075mm titanium anode and cathode battery current collector grids used in lithium batteries contained within implantable defibrillators, ensuring reliable energy supply from a smaller footprint. The company also manufacture micro pacemaker screening cans which feature an electrical insulator selectively applied to reduce arcing.
Orthopaedic saw blades. Typically, sharp-toothed blades are profiled using laser cutting before grinding to achieve the required tooth offset. By utilising the depth etching technique, one of the world-leading medical OEMs partnered with Precision Micro to develop a unique tooth profile which removed the need for the secondary grinding operation. Today, Precision Micro supplies 1,000s of sagittal and oscillating bone saws each month, machined to ±0.005mm - impossible with laser cutting and grinding.
Medical electronics. A wide range of 2-D and 3-D electronics components, including lead frames, EMI/RFI shielding, connectors, contacts, biosensor springs and meshes, can be etched burr- and stress-free, with clean profiles and no heat-affect.
Precision Micro prides itself as being a true innovator when it comes to the use of photo etching for medical applications, and invites OEMs already using the process to benchmark its service against alternative sources to assess the quality, service, and accuracy that a company with a 50 year pedigree in the niche brings to specific challenging applications. The company invites all medical OEMs to engage with it early in their product development cycle to facilitate the innovation potential that is opened up through the exploitation of design for photochemical machining.
About Precision Micro.
Operating from its state-of-the-art processing plant in Birmingham, UK, Precision Micro manufactures more than 50 million high-precision metal components each year for major global manufacturing customers across multiple markets. Its pioneering photochemical machining process provides a cost-effective alternative to traditional sheet metalworking when machining precision parts from thin gauge metals. Working to micron accuracy, its components enable next-generation aircraft engines, zero-emission vehicle technology, surgical instruments, titanium implants, a wide range of consumer electronics, safety-critical vehicle ABS braking systems and premium interior trim for brands including Rolls-Royce, Mercedes, Jaguar and Bentley.
Featured Product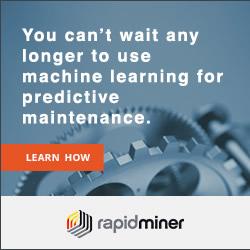 RapidMiner offers a data science platform that's built to enable people of all skill levels across the enterprise to quickly build and operate AI solutions to drive hard ROI for their organizations. Many data science tools are built to create accurate models, but cannot help manage the models into production, where they can have an impact. The platform covers the full lifecycle of the AI production process from data exploration and data prep to model building, model deployment and model operations. RapidMiner can help with a wealth of manufacturing use cases, like designing smart products, running smart factories, forecasting demand, ensuring quality, reducing production downtime, and managing supply chain risk.