New high-temp materials deliver extreme heat resistance, chemical resistance and high-strength removing barriers to industrial scale additive manufacturing
AUSTIN, Texas, September 19, 2019 - Essentium Inc., a leading provider of 3D printing technology for additive manufacturing, will introduce its new portfolio of advanced high-temperature (HT) nylon materials for additive manufacturing at Formnext 2019. The new materials are designed to deliver high heat, chemical and fatigue resistance as well as high strength for industrial applications while being as easy to print as Polylactic Acid (PLA) thermoplastics at low print temperatures.

Material constraints are one of the biggest barriers to turning 3D printing into full-scale production runs for manufacturers worldwide. Essentium's open extrusive additive ecosystem is giving customers more control, greater choice in materials and ultimately lower cost and higher volumes.
Essentium developed the new HT nylon range of materials to offer manufacturers a cost-effective alternative to niche HT materials that require high-temperature extruders which are prohibitively expensive to buy and maintain. Combining nylon with carbon fiber, the materials are more than four times stronger than high-performance Acrylonitrile Butadiene Styrene (ABS) and have a heat deflection temperature of 200°C, allowing manufacturers to print tough and impact resistant parts to withstand the rigors of the factory floor.
At Formnext 2019, the new materials will be demonstrated on an Essentium High Speed Extrusion (HSETM) 3D Printing Platform, the machine tool for 3D printing, showcasing how the materials open up more capabilities for additive manufacturing users such as for producing high-performance machine parts, tools and jigs and fixtures in aerospace, automotive and electronic manufacturing sectors. By delivering a complete and no comprise solution, the Essentium HSE 3D Printer, combined with innovative materials, finally unlocks the promise of industrial applications of additive manufacturing.
###
About Essentium
Essentium, Inc. provides industrial 3D printing solutions that are disrupting traditional manufacturing processes by bringing product strength and production speed together, at scale, with a no-compromise engineering material set. Essentium manufactures and delivers innovative industrial 3D printers and materials enabling the world's top manufacturers to bridge the gap between 3D printing and machining and embrace the future of additive manufacturing.
Featured Product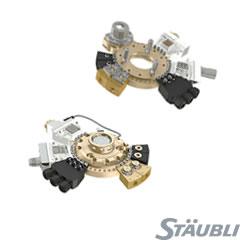 Stäubli is a pioneer in the construction and development of robotic tool changing systems. Our customers benefit from our many years of expertise in all industry sectors, as well as our modular product concept, which offers three efficient solution paths: MPS COMPLETE offers preconfigured robotic tool changers for immediate use. MPS MODULAR allows the user to determine the configuration, while MPS CUSTOMIZED allows the construction of special, application-specific systems.