NEMA 4X/IP66 rating makes MFCs ideal for biotech, food and beverage applications.
HATFIELD, Pa. (September 19, 2019) - Brooks Instrument, a world leader in advanced flow, pressure, vacuum and vapor delivery solutions, has added the EtherNet/IP™ digital communications interface to its industry-leading SLAMf Series mass flow controller (MFC) family of products.

The addition makes the SLAMf Series the only MFC from a U.S. supplier with NEMA 4X/IP66- rating and integrated EtherNet/IP communications as standard features. Therefore, this product series is the best choice for the biotechnology and food and beverage industries, where hose-down/wash-down requirements are present.
Whether it's dust, moisture, temperature extremes or wash-down requirements, the SLAMf Series elastomer-sealed thermal mass flow controllers and meters deliver the precise accuracy and long-term stability of our proven SLA5800 family of meters and controllers. A specially engineered NEMA 4X/IP66-rated hardened enclosure protects the SLAMf's advanced digital electronics and ensures stable, accurate measurement, process accuracy and control of process-critical gas and liquid mass flows.
Integrating the high-speed digital EtherNet/IP interface into the SLAMf Series MFC platform increases the controller's functionality by making it easier for OEMs and end-users to leverage real-time, rich process data with high-speed digital communications. In addition, the new SLAMf device offers industry-leading long-term sensor stability, a superior thermal flow measurement sensor and advanced diagnostics.
"We believe our leading end-users and equipment manufacturers will want high-speed communication
protocols for their next-generation systems," said Steve Kannengieszer, director of product marketing. "As a result, we integrated EtherNet/IP into our proven SLAMf Series MFCs, keeping our device footprint the same rather than taking up valuable equipment space with an add-on adapter."
The addition of the EtherNet/IP interface enhances the SLAMf Series in several ways:
Advanced diagnostic and alarm capabilities provide pedigree, performance and reliability data from the MFC, enabling predictive and preventive maintenance to help improve overall equipment effectiveness, reliability and flexibility.
The device's web-based interface allows network settings to be easily configured on the MFC.
The new capabilities allow OEMs to provide value-added process management and control, allowing them to offer users real-time information to improve operating results.
Add-on device profile enabled in SLAMF Series EDS files allows Simplified set-up with Rockwell Automation (Allen Bradley) DCS software.
In addition to the EtherNet/IP communication option, SLAMf is also available with DeviceNet®, Profibus® and RS-485/analog interfaces. Brooks previously unveiled a Biotech version of the SLAMf built specifically to reduce cost and complexity for biotechnology applications.
For information and resources about the newly enhanced SLAMf Series MFC, visit https://experience.brooksinstrument.com/PRSLAMfEtherNetIP.
About Brooks Instrument:
Since 1946, Brooks Instrument has been a leader in precision fluid measurement and control technology. Providing instrumentation for flow, pressure and vaporization, the company serves customers in semiconductor manufacturing, fiber optic and thin film manufacturing, solar cell, LED, alternative energy, oil and gas refining; chemical and petrochemical research; and pharmaceutical and biopharmaceuticals.
With manufacturing, sales and service locations in the Americas, Europe and Asia, Brooks Instrument has the world's largest installed base of mass flow controllers. Its broad family of products includes legacy brands such as UNIT Instruments, Tylan, Key Instruments and Celerity.
For more information, please visit www.BrooksInstrument.com. The company is also on LinkedIn (www.linkedin.com/company/Brooks-Instrument) and YouTube (www.youtube.com/user/Brooks407).
Featured Product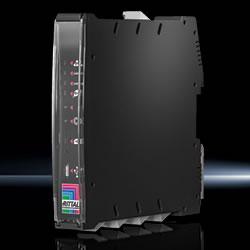 Rittal Blue e+ cooling units are currently the most efficient of their kind on the market. Besides being 75 percent more energy-efficient than previous cooling solutions on average, the units also excel in terms of connectivity, safety and handling.   What's more, their IoT interface enables Blue e+ units to link to customer-owned monitoring, energy management and/or superordinate systems via OPC-UA, Profinet, SNMP, Modbus TCP and CANopen, enabling predictive maintenance, data analytics and more.