With more than 1,000 visitors to the Center each week, Sensera gains a unique opportunity to pitch an entire system that can be sold as a service to potential customers and partners in the Company's industrial and manufacturing target markets
Sensera Partners with Autodesk to Exhibit 3D IoT Positioning Solution

► Autodesk selects Sensera to demonstrate its real-time 3D location services and smart sensor visualization at Autodesk's Boston Technology Center as part of its Residency Program
► Sensera's installation will showcase a new technology capability which automatically ties sensor readings to their 3D positions
► With more than 1,000 visitors to the Center each week, Sensera gains a unique opportunity to pitch an entire system that can be sold as a service to potential customers and partners in the Company's industrial and manufacturing target markets
Carlton, VIC, Australia, September 17, 2019 - Sensera Limited (ASX: SE1, "Sensera"), an Internet of Things (IoT) solution provider, that delivers sensor-based products transforming real-time data into meaningful information, action and value, is pleased to announce that it has been selected by Autodesk (NASDAQ: ADSK) to participate in its Residency Program at its Technology Center in Boston, MA. Autodesk is a leader in 3D design, engineering and entertainment software, which generates more than US$3.2 billion in annual revenue.
The Residency Program at the Autodesk Technology Centers in Boston, San Francisco, and Toronto provides open workspaces for teams from industry, academic and startup communities doing forward-looking work in the areas of construction, manufacturing and design.
Sensera joins other residents at the Boston Technology Center, which focuses on industrialized construction, digital fabrication, automation and robotics in construction, and other ideas that are transforming the built world including architecture and engineering. More than just a workspace, the center fosters an open community where industry thought leaders can work alongside each other on a shared vision of the future of construction.
As part of this program, Sensera will be demonstrating its real-time 3D location services and smart sensor visualization to visiting customers, other residents and Autodesk. The Sensera installation will show centimeter-precision 3D location tracking across several levels of the building where a crane operates, and lower cost meter-precision 2D location tracking on the factory floor.
The company's installation will demonstrate that to monitor positions and movement in real-time, tags can be fixed on any asset such as a forklift truck or on moving parts such as a crane hook. Sensor data from the tag is automatically tied to its location. A light-weight Intel NUC edge device runs location engine software and IoT middleware with data analytics and user interface.
Ralph Schmitt, CEO of Sensera, said: "Our team has installed an industry leading real-time location solution that will focus on smart construction by enabling personnel, tool and material tracking capabilities. This installation uses multiple radio-frequency (RF) technologies to optimize the use case down to centimeter accuracy. This is critical in next-generation worksite safety and workflow optimization. We're excited that thanks to Autodesk, we have a unique opportunity for potential customers and partners to touch and evaluate our solution."
# # #
Featured Product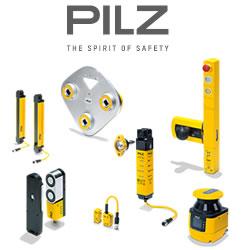 Pilz offers a wide range of safety sensors that conform to international standards and have been tested by certification bodies. Our sensor technology portfolio includes safety switches for monitoring positions, as well as guards. Optical sensors are ideally suited for area and zone monitoring. Choose from our wide range of light barriers, camera systems or tactile sensors, such as pressure-sensitive safety mats. Use our safe sensors in conjunction with our safe control technology! What you'll get from Pilz is an economical and safe complete solution. As well as being able to guarantee high efficiency for plants in an industrial environment, it is also especially important for us as a sensor manufacturer to protect humans, machinery and the environment.