The expansion of Kodak's 3D printing materials and accessories promises to cater to the demand for unique high temp materials in today's engineering sector
DELAWARE, USA, 12 September 2019 -Smart International, the authorized global brand licensee of 3D printing for Kodak, today announced that KODAK 3D Printing will be expanding its range of materials to include Acrylic and Nylon 6/66/12, as well as launching a new accessory line to enable users of the KODAK Portrait 3D printer to expand on the materials they can print with. These new additions promise to deliver on ever higher levels of quality, durability, and more technically difficult printing jobs.

Acrylic, a new filament designed by KODAK 3D Printing, combines polycarbonate properties which deliver on high rigidity and are light conductive, whilst also being easy to print. It is well-suited to optical applications as the material conducts light, allowing for the 3D printing of interesting prototypes or for pieces requiring high transparency. In addition,, the new Acrylic is low-friction and can withstand high temperatures. Due to its low friction coefficient, it works well with moveable parts.
Nylon 6/66/12 has also been introduced, as strong as traditional Nylon, but with greater flexibility. Unlike traditional Nylons, it is low warping and allows for better printing of fine details and overhangs. Used in conjunction with the KODAK Portrait 3D Printer, which has been designed specifically to print high-temperature engineering materials, with a fully enclosed chamber and robust all-steel structure, it allows for less warp and more successful prints. Nylon 6/66/12 is particularly suitable for parts that need to be very strong with tensile resistance, or strong parts with fine details.
In addition to these two materials, KODAK 3D Printing is also launching a new range of accessories to complement the KODAK Portrait and to give even more options with its dual extrusion system. First to be available are two mirrored E3D hotends, one all-metal and one PTFE, which will enable users to replace one of the existing hotends so they can use 2 all-metals or 2 PTFE on the same machine. This will open up the possibilities for dual material prints using two high-temperature or two low-temperature materials, and also for two color combinations.
"We are laser focused on our users. Every new material and accessory we develop is application driven, aimed at solving engineering problems with parts capable of withstanding a wider and wider range of resistances and industry needs,' said Roberto Gawianski, CEO of Smart International. "The market demand for 3D Printing is ever-evolving, and KODAK 3D Printing aims to be a forerunner in bringing new innovations to life."
About Smart International
Smart International has developed an ecosystem of solutions for professional 3D printing. Years of collaboration with engineers, designers, architects, artists and educators, have set the bar high. Only accurate and reliable technology with materials developed for a wide range of applications will help their creations endure and shine.
About Kodak
Kodak is a technology company focused on imaging. We provide — directly and through partnerships with other innovative companies — hardware, software, consumables and services to customers in graphic arts, commercial print, publishing, packaging, entertainment and commercial films, and consumer products markets. With our world-class R&D capabilities, innovative solutions portfolio and highly trusted brand, Kodak is helping customers around the globe to sustainably grow their own businesses and enjoy their lives.
Featured Product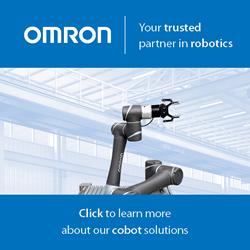 Humans and robots can now share tasks - and this new partnership is on the verge of revolutionizing the production line. Today's drivers like data-driven services, decreasing product lifetimes and the need for product differentiation are putting flexibility paramount, and no technology is better suited to meet these needs than the Omron TM Series Collaborative Robot. With force feedback, collision detection technology and an intuitive, hand-guided teaching mechanism, the TM Series cobot is designed to work in immediate proximity to a human worker and is easier than ever to train on new tasks.