The software is especially beneficial to AS9100 and ISO 9001 certified facilities such as Roush Yates. Both companies are excited to enter this multi-year partnership.
Engine development company Roush Yates Manufacturing Solutions (RYMS) will now use ProShop USA, Inc.'s software to manage its advanced manufacturing shop. ProShop's comprehensive ERP software allows users to control every step in the manufacturing process, from pricing and inventory to inspection data and shipping documentation. The software is especially beneficial to AS9100 and ISO 9001 certified facilities such as Roush Yates. Both companies are excited to enter this multi-year partnership.

Mitch Miller, Vice President of Manufacturing at RYMS said, "As we expanded into an 88,000 sq. ft. world-class facility with 50 CNC machines, it was important that we did things thoughtfully and with clear intention. We knew we needed a tool that could flex and scale as we grew and would be user friendly for our 50 plus employees to use throughout the plant. As we reviewed products and results, it was clear the best choice for our CNC manufacturing facility was ProShop."
ProShop Founder Paul Van Metre said, "To have an amazing and high-profile organization like Roush Yates Manufacturing Solutions choose ProShop is rewarding and humbling at the same time. We know that the lessons we learned about how to run a world-class paperless manufacturing operation and features we built into ProShop to achieve those goals will help RYMS take their world class facility to an even higher level. Their commitment to quality, exceptional customer service, their AS9100 requirements, and the high pressure and demanding nature of their business makes them a superb customer for ProShop's integrated ERP, QMS and MES functionality."
RYMS fully expects ProShop's cloud ERP manufacturing software to streamline their production and to keep their facility moving forward.
For more information, phone ProShop at 360.515.7576, or email contact@proshoperp.com.
# # #
More About ProShop USA, Inc.
ProShop USA, Inc. is the developer of advanced manufacturing software. Although the software itself was created simply to aid its creators in their shop, it was soon commercialized after its potential was realized. The software has an ERP module to help with office management, a QMA module to cater to ISO or AS9100 systems, and an MES module to ensure shop efficiency. Users have access to a variety of functions that allow them to control shop scheduling, floor control, quality management, CMMS, equipment calibration, etc. https://www.proshoperp.com/proshop/
More about Roush Yates Manufacturing Solutions (RYMS)
Roush Yates Manufacturing Solutions is a part of Roush Yates Engines, an engine development company based in Mooresville, North Carolina. RYMS is a world class ISO9001 and AS9100 certified CNC manufacturing facility dedicated to designing, simulating, testing, and building race engines. As a partner of Ford Performance, RYMS is the exclusive engine builder of NASCAR FR9 Ford V8 engine and twin-turbo EcoBoost Ford V6 race engine in Ford GT super car. RYMS also produces engines for the aerospace, defense, medical, and industrial industries. https://roushyates.com/
Featured Product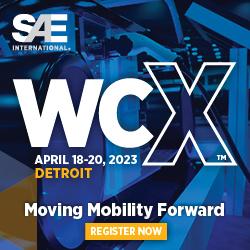 As the global leader in connecting and educating engineers, SAE International® brings you WCX 2020 World Congress Experience, the only place for the latest in consumer metrics, regulatory standards and technical sessions covering the entire vehicle, from bumper to bumper and beyond.