Standard cable assemblies from Molex deliver off-the-shelf solutions with a broad offering of cable lengths
Heilind Electronics, a leading global distributor of electronic components and authorized distributor for Molex products, has expanded its portfolio of Molex connector solutions to include Mini-Lock discrete wire cable assemblies.

Off-the-shelf Mini-Lock discrete wire cable assemblies from Molex offer a 2.50mm pitch and premium housing features, and are available in a variety of cable lengths to facilitate both prototyping and global production. The Mini-Lock connector is ideal for applications with multiple headers of the same circuit size, limited PCB space and applications having issues with terminal backout.
What makes the Mini-Lock an ideal solution, in most instances, is prototyping cable assemblies that require specialized tooling to crimp terminals—which creates increased costs to prototype a system for testing. Molex off-the-shelf Mini-Lock cable assemblies help solve tooling start-up costs by providing a completed assembly that meets the IPC-specification design without the need for specialized tooling.
The Mini-Lock cable assemblies come in lengths from 50 to 600mm, with custom specifications available. Markets and applications include consumer electronics, industrial automation, medical devices and drones.
Visit Heilind's website for more information about Molex Off-the-Shelf Mini-Lock Discrete Wire Cable Assemblies.
About Heilind
Heilind Electronics, Inc. (http://www.heilind.com) is one of the world's leading distributors of connectors, relays, sensors, switches, thermal management and circuit protection products, terminal blocks, wire and cable, wiring accessories and insulation and identification products. Founded in 1974, Heilind has locations throughout the U.S., Canada, Mexico, Brazil, Germany, Singapore, Hong Kong and China. Follow Heilind on Facebook at http://www.facebook.com/Heilind and on Twitter at http://www.twitter.com/Heilind.
About Molex
Molex (http://www.molex.com) brings together innovation and technology to deliver electronic solutions to customers worldwide. With a presence in more than 40 countries, Molex offers a full suite of solutions and services for many markets, including data communications, consumer electronics, industrial, automotive, commercial vehicle and medical.
Featured Product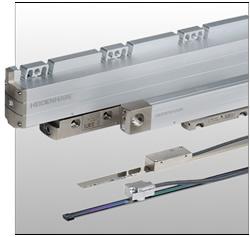 Nothing beats the positioning accuracy of linear encoders from HEIDENHAIN. Available in absolute and incremental versions and ideal for a variety of applications-including machine tools, semiconductor machines and medical machines-these measuring solutions combat a variety of issues that erode precision.