Organizations to collaborate on trusted IoT best practices and global challenges
The Industrial Internet Consortium® (IIC) and the Trusted IoT Alliance (TIoTA) announced they have agreed to a liaison to work together to advance their shared interests. Under the agreement, the IIC and the Trusted IoT Alliance will work together to align efforts to maximize interoperability, portability, security and privacy for the industrial internet.

Joint activities between the IIC and TIoTA will include:
Identifying and sharing IIoT best practices
Realizing interoperability by harmonizing reference architectures and other elements
Collaborating on standardization
Regular meetings to exchange information and potential joint workshops
Co-organizing IoT Challenges, in which design and implementation organizations compete globally on challenges with real-world customer requirements.
"The IoT Challenges, which are designed to address our mutual goals, will be a key area of collaboration for the two consortia," said Anoop Nannra, Chairman, Trusted IoT Alliance and Global Head of Blockchain/DLT Business, Cisco. "These goals include bringing together forward-thinking enterprise customers with innovators while creating interest around emerging use cases and value chains in the industrial internet. A formal liaison relationship with the IIC will help to further accelerate IoT adoption in numerous application areas across industries."
The organizations are already launching two new IoT Challenges this summer: Smart Buildings and Smart Logistics. The goal of the Smart Buildings Challenge is to help overcome existing technology barriers to address the high volume of untapped opportunities in the market. The Smart Logistics Challenge is intended to develop and implement a technical solution for trusted data interchange for the horizontal supply chain in support of defined use cases.
"Trustworthiness is a key concern for most companies considering IoT adoption," said Wael William Diab, Chair of the IIC Liaison Working Group and Secretary of the IIC Steering Committee. "There is a natural synergy between the IIC and the mission of the Trusted IoT Alliance. We're looking forward to our liaison with the Trusted IoT Alliance to help build a more trusted, secure and scalable IoT."
The IIC Liaison Working Group is the gateway for formal relationships with standards and open-source organizations, consortia, alliances, certification and testing bodies and government entities/agencies. The agreement with the Trusted IoT Alliance is one of a number of agreements made by the IIC's Liaison Working Group. For a list of current liaisons, click here.
About the Trusted IoT Alliance
TIoTA is a result of the collaboration amongst passionate technologists working to leverage blockchain infrastructure to secure and scale IoT ecosystems. TIoTA seeks to enable trust in the data produced by such IoT systems in a distributed ledger/blockchain agnostic fashion, thereby enabling a decentralized trust model for interoperable digitized identities of physical goods, documents, immobilized assets, sensors, and machines. Visit trusted-iot.org and search #tiotachallenges and #tiotamobility to learn more.
About the Industrial Internet Consortium
The Industrial Internet Consortium is the world's leading membership program transforming business and society by accelerating the Industrial Internet of Things (IIoT). The IIC delivers a trustworthy IIoT in which the world's systems and devices are securely connected and controlled to deliver transformational outcomes. The Industrial Internet Consortium is a program of the Object Management Group (OMG). For more information, visit http://www.iiconsortium.org.
Note to editors: Industrial Internet Consortium is a registered trademark of OMG. For a listing of all OMG trademarks, visit http://www.omg.org/legal/tm_list. All other trademarks are the property of their respective owners.
Featured Product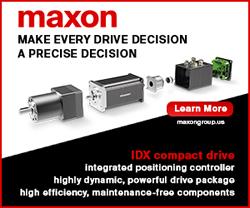 maxon motor launches new high-speed motors that are configurable online. The new ECX brushless motors are quiet and feature very high efficiency. The ECX motors are available with diameters of 8, 16 and 19 mm achieving speeds of up to 120,000 rpm. They run very smoothly and are highly efficient. With maxon motor's online configurator, it is easy to put together a customized DC motor to include gearhead, encoder and controller. The customized motors are ready to ship in 11 days!