Windform FR1 is the first carbon-fiber-filled flame-retardant material for laser sintering technology to be rated V-0.
Since mid-90', CRP Technology has been changing the rules of additive manufacturing, smashing records and setting models nowadays that apply to the 3D printing technology with polyamide materials.

A clear sign of this continued performance is Windform® FR1 (FR stands for Flame Retardant), the new-born material from the Windform® TOP-LINE family of composite materials for Additive Manufacturing.
It is intended to become a game-changing material in the field of 3D printing for its uniqueness: it is the first Flame Retardant (UL 94 V-0 rated) material for Additive Manufacturing which is carbon fiber reinforced.
It is also passed successfully the FAR 25.853 12-second vertical and 15-second horizontal flammability tests as well as the 45° Bunsen burner test.
"Only a few days from the launch of a new range of Windform® materials, the P-LINE for HSS technology - commented Franco Cevolini, VP and CTO at CRP Technology - I'm very proud to launch a new revolutionary composite material from the Windform® TOP-LINE family of materials for Laser Sintering technology. Our aim is to constantly produce technological breakthroughs. With Windform® FR1 we can steer you toward the proper solution for your projects"
Windform® FR1 is halogen free polyamide-based material, that combines superior mechanical properties with excellent stiffness and lightweight.
Owing to its flame-retardant quality, this high-performance polyamide based composite material is suitable for Aircrafts and Aerospace applications (interior parts, cockpit, cabin components, air conditioning piping, air ducts, air outlet valves); Automotive and Transportation parts (vehicle interiors, housing and enclosure assemblies); Consumer goods and Electronics (lighting, appliances) and in general for any parts requiring flame retardant rating.
Windform® FR1 is also ideal for high feature detail applications requiring FAR 25.853 fire retardant compliancy.
Windform® FR1 is also suitable for the manufacturing of components with detailed surface resolution.
"We will not stop here- added Franco Cevolini - we will continue our work on renewal and technological expansion in the field of Additive Manufacturing. Stay tuned!"
Featured Product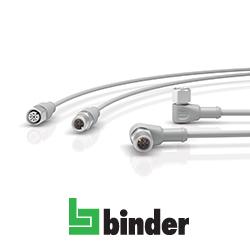 binder USA, LP, has expanded the M12 product family with the addition of the M12 A-Coded Connector, which is now certified for both Ecolab and FDA Code of Federal Regulations (CFR) Title 21 standards. The M12 A-Coded connectors are extraordinarily durable and IP69K-rated, ideal for harsh-duty and washdown applications in the food and beverage, pharmaceutical, and chemical industries. Available in 3, 4, 5, 8, and 12 contacts, the high quality stainless steel locking rings (V4A) and gold contact plating can also withstand UV exposure and shock and vibration.