With the LDMblue high-power diode lasers, Laserline presents the world's first blue diode lasers with cw output power of up to 1 kW at 450 nm wavelength. As the first industrial diode lasers, the new LDMblue lasers allow for a controlled heat conduction welding of highly reflective non-ferrous metals such as copper or gold. They are available in standard configurations with 1000, 500 or 300 W output power.
Santa Clara, California June 20, 2019 - As the international leading developer and manufacturer of diode lasers for industrial material processing, Laserline continues to strengthen its outstanding market position. With immediate effect, a new high power laser series LDMblue has become available with up to 1 kW output power. These lasers operate at 450 nm wavelength and are the first industrial diode lasers capable of making a controlled heat conduction welding of highly reflective nonferrous metals such as copper and gold. These lasers offer new and more efficient manufacturing options, especially with joining of thin copper for example used in battery production for electric vehicles. Finely tuned power regulations within milliseconds and extraordinary calm melt pools will ensure smooth-seam areas with excellent electrical conductivity. Thereby rendering the laser systems interesting as well for design-oriented applications in visible areas. Furthermore, the diode lasers of the LDMblue series have also been successfully tested in cladding and additive manufacturing processes based on non-ferrous metals.

Supported by the German government research program EffiLAS (Efficient high-power laser beam sources), the new laser series was developed by Laserline together with Osram and other project partners. The LDMblue diode lasers are available in three standard configurations with 1,000, 500 or 300 W output power at beam qualities of 100 or 60 mm·mrad (LDMblue 1000-100 / 500-60 / 300-60). Thanks to the proven and compact LDM design for the 19'' rack, the LDMblue lasers can easily be integrated in a space-saving manner into all common production lines. You can find detailed information about the Laserline LDMblue series online at www.laserline.com/ldm-blue.
Up till now, joining thin non-ferrous metal components using classic infrared lasers was only possible via a modified deep welding process with material reinforcements in the seam area. This was due to the strong reflexion in the infrared spectrum which required high energy inputs. However, light in the blue spectrum is absorbed by non-ferrous metals up to twenty times stronger than by infrared radiation. Thus, compared to conventional infrared lasers, less energy is obviously necessary for fusing the workpiece surface. Even the thinnest copper components can be joined in this way without artificial material reinforcement.
About Laserline:
Laserline is one of the pioneers in diode laser technology, and played a significant role in achieving a breakthrough with this laser type. Founded in 1997, the company grew within only a few years to becoming an international leading developer and manufacturer of diode lasers for industrial applications. As of today, about 5,000 Laserline diode lasers have been delivered worldwide. Laserline currently employs 360 people and has international subsidiaries on the American continent (USA, Brazil) and in Asia (Japan, China, South Korea) as well as sales partners in Europe (France, Italy, Great Britain) and in the Asia-Pacific region (India, Singapore, Taiwan, Australia). Laserline diode lasers can be found in a wide variety of different sectors and application areas. Typical application areas are classical forms of metal processing, as welding, brazing, hardening or softening, as well as realization or repair of coatings. Furthermore, Laserline diode lasers have been established for plastic welding and additive manufacturing (metal 3D print) or welding of fiber composites.
Featured Product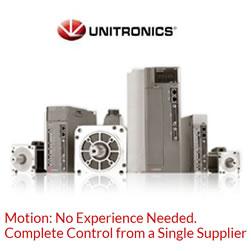 Unitronics' new line of AC Servo Drives & Motors changes the traditional approach to motion control. They are simple to set up and painless to program. Unitronics Servos simplify implementation of motion applications while minimizing complexity and reducing development time. Some of the easy-to-use features in this new line include implementing motion control easily with ready-made motion code, embedded diagnostic tools, and automatic communication setup.